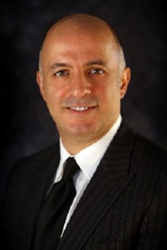 Los Angeles, CA (PRWEB) September 28, 2016
Los Angeles dentist, Dr. Bijan Afar comments on the new study now linking gum disease to cerebrovascular diseases. Numerous studies have linked gum disease to systemic inflammation, heart disease, stroke, and other serious health problems, but a new study demonstrates a specific relationship between a condition called lacunar infarct and chronic periodontitis. Chronic periodontitis is an advanced stage of gum disease. Lacunar infarct is a stroke that occurs when the arteries that supply the brain's deeper structures become occluded.
The CDC estimates that about seventy percent of those over the age of sixty-five have some degree of gum disease, and 130,000 Americans die annually due to strokes. According to this study, which was published in the "European Journal of Neurology" and summarized at Science Daily, those with periodontal disease are four times more likely to suffer a lacunar stroke than those with good dental health.
Researchers theorized that the systemic inflammation associated with chronic periodontitis could interfere with the health of blood vessels. However, both conditions also share certain risk factors, including diabetes, high cholesterol, and high blood pressure.
Dr. Bijan Afar, Miracle Mile dentist, takes a proactive role with his patients' smiles by offering a variety of periodontal treatments to manage their gum health. These include:

Scaling and root planing
Antimicrobial treatments
Periodontal maintenance
Pocket reduction surgery
Gum grafts
Bone grafts
Dental implant surgery
Guided tissue regeneration
Dr. Afar and his team offer comprehensive dental care designed to maintain good overall dental health. This includes not just periodontal care but also general dentistry, tooth-colored fillings, crowns, inlays, onlays, porcelain bridges, dentures, porcelain veneers, Zoom whitening, night guards, TMJ treatments, sleep apnea mouthpieces, and sedation dentistry.
About Dr. Bijan Afar
Dr. Afar is a graduate of the University of California, Los Angeles. He completed his residency in periodontics at the University of Washington, Seattle. He has decades of experience and is an internationally recognized expert in oral implantology. Today, he is a member of the Western Los Angeles Dental Society, the California Dental Association, the American Dental Association, and the Academy of Osseointegration.