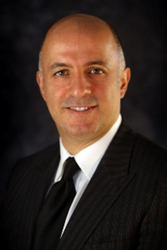 Los Angeles, CA (PRWEB) December 23, 2014
Finding a new dentist can be hard. Los Angeles dentist, Dr. Bijan Afar, is now offering a new promotion for new patients that may just make the process a lot easier. This special is only available to new patients and cannot be combined with other specials or promotions.
About Dr. Bijan Afar, Expert in Dental Implants
Dr. Afar graduated from the UCLA School of Dentistry, from which he earned his degree in Oral Biology and his DDS. His scholarship earned him the California State Fellowship, Hortense Fishbaugh's Fellowship and the prestigious NIH Dentist-Scientist Fellowship. This allowed him to continue his studies at the University of Washington, Seattle, from which he earned his specialty degree. Today Dr. Afar is a member of the California Dental Association, the American Dental Association, and the Iranian American Dental Association.
New Patient Special
For a limited time, new patients can get a complete dental exam with a professional cleaning and dental X-rays for just $49. This special pricing makes it easier than ever to keep up with essential dental health needs and keep smiles both healthier and happier. Patients who take advantage of this offer can learn more about Dr. Afar's dental office, get to know his team and find their new dental home.
The American Dental Association recommends that adults receive dental exams and professional cleanings about every six months. Los Angeles dentist, Dr. Afar, may recommend more frequent cleanings and exams for patients who are at high risk of having dental problems.
Routine dental exams offer a variety of benefits, including:

Monitoring dental health to catch early signs of problems
Evaluating dental hygiene needs
Dental counseling to improve at-home dental habits
Treatment recommendations
Preventative treatments, including cleaning, which removes all buildup for better tooth and gum health
Dr. Bijan Afar and his team offer comprehensive dental care for their patients. Patients can enjoy one-stop dental care that includes general, preventative, and restorative dentistry as well as endodontic treatments, dental extractions, dental surgery, periodontal treatments, traditional orthodontics, Invisalign, and extensive cosmetic treatment options, including teeth whitening, dental bonding, Lumineers, and porcelain veneers.