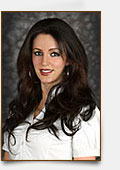 Los Angeles, CA (PRWEB) January 16, 2015
Los Angeles cosmetic dentist, Dr. Poneh Ghasri, is now offering complimentary in-office whitening. This special comes just in time for patients to brighten their smiles for the new year. In-office whitening can dramatically brighten teeth and boost patients' smile confidence. The whitening treatment is complimentary with a paid dental exam, cleaning, and X-rays for new patients. The exam may be covered by dental insurance, which means that there may be no out-of-pocket costs.
Regular dental exams can be among the best ways to maintain dental health, and professional cleanings remove all traces of plaque and tartar for a fresher, cleaner smile that is ready for maximum whitening. Los Angeles dentist, Dr. Ghasri, takes smile health seriously, but she is equally committed to smile satisfaction and works with her patients to ensure the best results possible. This special is available for a limited time only, cannot be combined with other promotions, and some restrictions may apply.
About Dr. Poneh Ghasri , Expert in Teeth Whitening Los Angeles
Dr. Ghasri is a popular Los Angeles dentist with a clientele that includes well-known personalities and top celebrities. She attended UCLA, from which she graduated with a degree in neuroscience. She earned her Doctorate of Dental Surgery at the University of California, Los Angeles, School of Dentistry. Dr. Ghasri has continued her education in advanced field such as cosmetic dentistry and has completed certification programs for Lumineers, Invisalign, and dental implants. She is a top Lumineers dentist and an Invisalign Preferred Provider, and her reputation for skilled smile makeovers and dramatic teeth whitening transformations is unparalleled.
Teeth whitening is among the most popular treatments in cosmetic dentistry. It is a highly effective way to create a more youthful appearance, remove extrinsic stains and brighten a smile. Many people are able to leave the office with happier smiles after a teeth whitening treatment. Dr. Ghasri offers in-office whitening for the fastest, brightest results possible. In addition to teeth whitening, Los Angeles dentist, Dr. Ghasri, also offers restorative treatments such as dental crowns, inlays, and onlays as well as other cosmetic procedures, including dental veneers, Lumineers, and Invisalign.