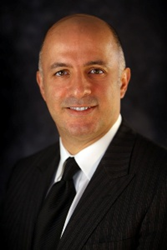 Los Angeles, CA (PRWEB) March 18, 2016
Probiotics have been called microbial ecosystems, and they are as unique to a specific individual as a fingerprint is. Researchers at the University of Florida believe that these probiotics play a role in digestive health, autoimmune disorders, emotional health, diabetes, obesity and other systemic and general health issues. This study, the results of which are published in the March 2016 issue of Journal of Applied and Environmental Microbiology, found that healthy oral bacteria may similarly keep bad oral bacteria under control. Dr. Bijan Afar, dentist in Los Angeles, comments on the new study about cavity-fighting probiotics.
According to a study recently published in "Applied and Environmental Microbiology" and outlined in MedicalExpress.com, researchers may soon be able to combat cavities with an oral probiotic using a specific strain of Streptococcus. A healthy oral environment requires a neutral pH, and researchers found that these probiotics could neutralize acids by adding beneficial organisms to the mouth. These probiotics could then interfere with the disease-causing organisms' ability to cause dental disease or even kill them, leading to better dental health and a reduced incidence of disease.
While administering a dose of probiotics might not yet be a standard preventive treatment option offered at the local dental office, Dr. Afar does offer a number of other preventive care measures and recommends personalized care plans that can help address their unique risk factors. He offers a wide range of treatments, including:

Dental sealants and fluoride
Tooth-colored fillings, porcelain crowns, inlays and onlays
Surgical and nonsurgical periodontal treatments
Orthodontic treatments
Dental implants
Anti-aging dentistry
TMJ dentistry
Sleep apnea treatments
Dental sedation
Cosmetic dentistry procedure
About Dr. Bijan Afar
Dr. Afar earned both his undergraduate and his DDS degrees from the University of California, Los Angeles. He received the Hortense Fishbaugh Fellowship and the Dentist-Scientist Fellowship, which allowed him to continue his studies at the University of Washington. Today, Dr. Afar is much sought after for his expertise in the fields of periodontology and oral implantology. He is a member of the California Dental Association, the American Dental Association and the American Academy of Osseointegration.
Source: http://medicalxpress.com/news/2016-03-cavities-day-easy-pill.html