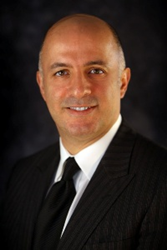 Los Angeles, CA (PRWEB) May 19, 2016
Periodontal disease affects nearly half of American adults over 30 and is a leading cause of tooth loss. More commonly known as gum disease, it occurs as a result of oral bacteria colonizing the tissues supporting the teeth. Over time, the bacteria can destroy the gum and bone tissue, leading to tooth loss. As the disease progresses, the resulting inflammation and infection can increase the risk of heart disease and other serious health issues. Los Angeles dentist, Dr. Bijan Afar, comments on new gum disease treatment options.
Researchers recently found that P. gingivalis, the bacterium to blame for periodontal disease, died when it came into contact with silicon nitride, according to Medical News Today. Research published in the journal "Langmuir" revealed that silicon nitride has powerful antimicrobial properties that could make it a valuable ally in the fight against periodontal disease. The researchers used a variety of techniques to monitor the interactions between the microbes and silicon nitride surfaces and found that within just six days, the bacteria's ability to function properly had been reduced dramatically. They had also suffered DNA damage. While further studies are needed, this research may provide new options for gum disease treatments.
Dr. Bijan Afar currently offers a variety of conservative and surgical treatments for gum disease, including:

Scaling and root planing
Crown lengthening
Bone grafts
Soft tissue grafts
Dental implants
Pocket reduction surgery
Periodontal disease can occur with few noticeable symptoms. Risk factors include smoking, poor diet, poor dental hygiene, and systemic health issues such as diabetes, but it can affect anyone. Regular dental checkups play an important role in any preventive strategy.
About Dr. Bijan Afar, Periodontist
Dr. Afar is a graduate of the University of California, Los Angeles. After receiving his Master of Oral Biology and Doctorate of Dental Surgery, Dr. Afar continued his studies in the field of periodontology. He received the California State Fellowship and the prestigious NIH Dentist-Scientist Fellowship, which enabled him to pursue his advanced degrees. Today, Dr. Afar is a member of the California Dental Society, the American Dental Association, and the International Congress of Oral Implantologists.