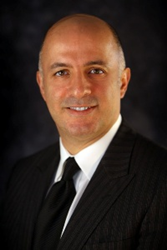 Los Angeles, CA (PRWEB) November 15, 2016
Los Angeles dentist, Dr. Bijan, Afar comments on the results of this new study showing the benefits of laser treatments in dentistry. Dental lasers may just be the best new tool in the fight against oral bacteria. A new study reveals that dental lasers are highly effective in killing bacteria and eliminating colonies in diseased gum tissue, according to Medical News Today.
The new study, which was published in "Lasers in Surgery and Medicine," revealed that lasers can be used to debride diseased tissue, kill bacteria and promote better dental health. Oral bacteria colonize gum tissue, and they can attack the tissues and bones that support teeth, breaking them down. This is a condition known as periodontal disease.
"Conventional gum disease treatments have included deep cleaning procedures and surgical treatments" said Dr. Afar. The researchers in this study used computer simulations to show how lasers could destroy bacterial colonies in the mouth using a variety of mathematical models based on known characteristics of gum disease and bacteria. According to Dr. Afar "the simulations validated the use of lasers as an acceptable treatment for gum disease by showing that healthy tissues could be spared while bacteria would continue to be killed up to 3 mm deep in the gums." The study also enabled researchers to better identify the best lasers and techniques to use for killing the bacteria strains involved in gum disease.
Periodontal disease is a serious condition with serious consequences. Early symptoms include inflammation, swelling, bleeding and tenderness. Causes can vary, according to Dr. Bijan Afar. "There can be a number of factors," he said. "However, one reason is because of poor hygiene. If you don't take care of your teeth and brush and floss them properly on a daily basis, your teeth and gums suffer. Left untreated, it can lead to loss of teeth." For more information, visit http://www.wilshiredentalcare.com.
About Dr. Bijan Afar
Dr. Afar is a graduate of the University of California, Los Angeles, School of Dentistry. After receiving his MS in Oral Biology and his DDS, he continued his studies in oral implantology and periodontology at the University of Washington, Seattle, where he earned his specialty degree in periodontology. Today, Dr. Afar is a member of the American Dental Association, the American Academy of Implant Dentistry, the Academy of Osseointegration and the American Academy of Periodontology.