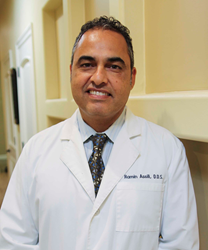 East Los Angeles, CA (PRWEB) December 09, 2015
East Los Angeles cosmetic dentist, Dr. Elyson, and Dr. Assili announce that they are currently offering a promotion on dental implants. Through December 31, 2015, patients can visit Smiles LA to get a dental implant for the reduced price of $999.00. This price does not include a restorative implant crown, allowing patients to specify how their tooth replacements are finished. The promotion cannot be combined with any other offer. Implants offer the greatest performance, comfort and appearance among tooth replacements. With the promotional price of an implant at Smiles LA, patients can effectively restore their appearance and oral function at a more affordable price.
Dental implants are more stable and natural looking compared to other tooth replacements because they are integrated into the jaw bone. Unlike other options for replacing teeth, implants even fulfill the role of tooth roots, which means that they are able to prevent the jaw bone deterioration that can occur with traditional dentures and bridges. Despite all of their advantages, implants are sometimes avoided because they also cost more than dentures and dental bridges. The lower price presently available at Smiles LA offers an opportunity for patients to more easily budget for this ideal form of tooth replacement.
A full range of treatments is provided by Dr. Elyson and Dr. Assili, including multiple options for replacing lost teeth. Bridges and dentures both give aesthetic and functional restoration after tooth loss, and both are also faster and more affordable than implants. Fillings, inlays, onlays and crowns are offered along with several cosmetic procedures, such as veneers and teeth whitening. Invisalign and treatments for sleep apnea and TMJ are also available at Smiles LA.
Dr. Elyson and Dr. Assili earned their undergraduate degrees from California State University, Northridge, with majors in Chemistry and Biochemistry, respectively. Both went on to earn their DDS degrees at UCLA and have completed additional certifications since beginning their careers. Dr. Elyson and Dr. Assili have both attended highly regarded programs in dental implantology and continue to hone their skills in different dental specialties. As respected members of several organizations in their profession, Drs. Elyson and Assili strive to offer patients the very best care for their oral health and appearance.