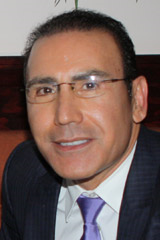 North Hollywood, CA (PRWEB) November 13, 2015
North Hollywood braces dentist, Dr. Hamid Reza, and the team at Hamlin Dental Group are now offering discounts on braces. For a limited time, patients can take advantage of this special pricing offer throughout November and December. The special includes $250 off the price of treatment and 20 percent off the cost of X-rays. Braces can straighten even the most maloccluded smiles and can boost self-confidence while improving overall smile and facial appearance.
"Hamlin Dental Group knows that, especially for those in the entertainment, hospitality, and other businesses where first impressions really matter, helping people craft the brightest, most pleasant smile possible is truly important work," said his team. According to Hamlin Dental Group, "(Dr. Reza) has the exact right combination of dental knowledge and an appreciation for the beauty of a brilliant smile to help people achieve the kind of smile that will make the absolute most of their appearance."
Braces consist of brackets, wires and bands that are attached to the teeth and periodically adjusted. Patients can benefit from braces if they have:

Teeth with gaps or abnormal spaces
Upper teeth that jut over the lower teeth
Lower teeth that jut past the upper teeth
A crossbite or another bite abnormality in which the upper and lower jaws do not meet properly
Crowded or crooked teeth
Other issues that affect the positions of their teeth or the comfort of their bite
Patients who are not candidates for braces can still benefit from the diverse treatments offered by Hamlin Dental Group and Dr. Reza. These include Invisalign, teeth whitening, porcelain veneers, routine cleanings, smile makeovers, dental fillings and dental implants.
About Dr. Hamid Reza, Dentist North Hollywood
Hamlin Dental Group is a team of dentists and dental professionals who are committed to providing their community with skilled, comprehensive dental care. Dr. Reza has nearly 20 years of experience and is a member of the American Dental Association and the California Dental Association. He is an active volunteer who works with those who lack access to affordable dental care. Dr. Reza works with Drs. Garemani, Koshkerian, Yessaian, Woo, Wang and Vafadar, general dentists and specialists who bring diverse experiences and skills to the practice. The multi-lingual team offers dental care for the whole family and for patients of all ages.