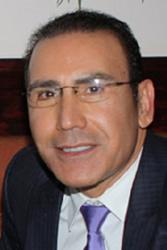 North Hollywood, CA (PRWEB) June 27, 2016
Dr. Hamid Reza, dentist in North Hollywood, is now offering smile makeovers. According to the American Academy of Cosmetic Dentistry, the majority of inquiries about cosmetic dentistry are coming from those between thirty-one and fifty years of age. These people are often looking for ways to boost their confidence at work and at home. They want to feel better about themselves, and they want to turn back the hands of time on their smiles.
A smile makeover is a cosmetic process that is used to transform badly damaged or unsightly teeth and create more aesthetically pleasing smiles. One or several cosmetic and restorative procedures can be incorporated into a smile makeover. The process is completely personalized for each patient to address specific trouble spots.
Common procedures involved in smile makeovers include:

Teeth whitening to bleach stains and lighten dark-colored teeth
Crown lengthening to create longer looking teeth and remove excess or bulky gum tissue
Dental bonding to correct minor flaws
Tooth-colored fillings to replace old or worn amalgam fillings
Porcelain veneers to cover cosmetic flaws such as gaps, crooked teeth, discolorations, and chips
Orthodontics to straighten crooked teeth
Dr. Reza also offers other treatments as well, including professional dental cleanings, dental extractions, tooth implants, gum surgery, digital dental X-rays, and full mouth reconstructions. Preventive, restorative and cosmetic treatments are all available, and Dr. Reza's team offers dental care for the whole family.
About Dr. Hamid Reza
Dr. Reza is a member of the California Dental Association, the San Fernando Valley Dental Association, and the American Dental Association. With nearly twenty years of experience, Dr. Reza offers his patients the latest in dental technology and remains at the forefront of dental research. He is an active volunteer and has worked with a variety of outreach programs in the Los Angeles area. His team includes Drs. Garemani, Koshkerian, Yessaian, Woo, Wang, and Vafadar. This team of highly qualified general dentists and dental specialists provide patients with the comprehensive dental care they need to keep their smiles healthy. They speak English, Spanish, Arabic, German, Armenian, Chinese, Farsi, and Telugu.