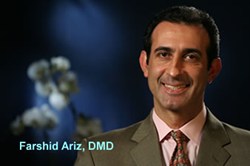 Northridge, CA (PRWEB) July 19, 2013
When teeth are missing from a smile, the remaining teeth may be more prone to drifting, shifting or tilting. Eating can become difficult, and the remaining teeth may have to work harder. For many people, the worst consequence of tooth loss is the related loss of self-esteem. They may not want to smile due to the gap in their teeth, and public speaking or even just meeting new people can become an ordeal rather than an opportunity. Dr. Ariz, Northridge dentist, now offers dental implants to restore naturally beautiful smiles.
Dental implants do not just restore a patient's smile. They can also help preserve the jawbone. After a tooth is lost, the bone begins to deteriorate. When a titanium dental implant is placed, it fuses with the jawbone and prevents this deterioration. The result is a well-balanced face and strong jawline.
Northridge dental implants dentist, Dr. Ariz, can use dental implants instead of dental bridges or dentures to replace one or more missing teeth. They are anchored directly to the jawbone, which eliminates the need to alter adjacent teeth, and they will not slip or slide, unlike dentures.
Dr. Ariz, Northridge dentist, offers other dental treatments as well to help patients achieve stronger, healthier smiles. Dental crowns, tooth-colored fillings, periodontal treatments, porcelain veneers and teeth whitening can all play a role in good dental care. Each patient will be evaluated to identify the best treatment options to help them achieve their goals.
About Dr. Ariz
After graduating from Boston University School of Dentistry in 1989, Dr. Farshid Ariz received his Certification in Advanced Graduate Studies in Periodontics. Dr. Ariz is experienced in the field of aesthetic periodontal therapy, oral implantology, aesthetic implant surgery and full mouth reconstruction. He is currently an Assistant Professor to Advanced Periodontics for the University Of Southern California School Of Dentistry. A member of the Medical Review Institute of America, Inc. and the American Academy of Osseointegration, Dr. Ariz stays current on the latest studies, techniques and procedures so that he can provide his patients with the best care possible.
Contact Northridge Dental Group for more information or to schedule an appointment.
Contact
Northridge Dental Group
Dr. Farshid Ariz, DMD
9801 Balboa Blvd.
Northridge, CA 91325
Phone: (818) 626-3388
Website: http://www.yournorthridgedentist.com