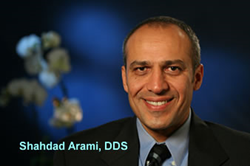 Northridge, CA (PRWEB) March 30, 2015
Dr. Shahdad Arami is now offering a special promotion on Invisalign. Eligible patients will receive $200 off their Invisalign treatment. Many people crave straighter smiles but are not particularly interested in wearing a mouthful of metal. Invisalign offers an alternative. According to Dr. Arami's team, "The use of traditional braces is effective for straightening teeth but has no aesthetic value to people who are already concerned with their oral appearance. The Invisalign system allows both teenagers and adults a new way to receive straightening treatments with more accuracy and privacy compared to traditional orthodontic treatments."
The Benefits of Invisalign
Invisalign treatment begins with a 3D model of the patient's smile. This model is used to map a series of adjustments until the model has been completely straightened and adjusted to create a healthy bite and attractive alignment. The benefits of this treatment method are extensive and include:

The removable nature of the aligners eliminates the need for dietary changes and makes it easy to keep teeth clean during treatment. Comfort Aligners are made of smooth, comfortable plastic that will not rub, pinch, or irritate.
Most patients can complete treatment in just 12 to 18 months.
The planning stage of treatment enables Dr. Arami to have maximum control over results, allowing him to refine and adjust the positions of teeth as needed.
Patients have fewer doctor visits and more control over their treatment experience.
This Invisalign special can be a great option for patients who are interested in treatment but prefer a more affordable experience. Financing is available for qualified patients, and orthodontic treatment is often covered by dental insurance, further lowering the cost.
About Dr. Arami, Dentist Northridge
Dr. Shahdad Arami graduated from UCLA's School of Dentistry in 1993. While finishing his general practice residency, Dr. Arami concentrated on treated patients who were medically compromised and patients who suffered from dental anxiety and phobias. He has also completed advanced training in implant and aesthetic dentistry. He has a warm, compassionate nature and can put even the most nervous patient at ease. Dr. Arami is a member of the California Dental Association and the American Dental Association. His office offers the full spectrum of dental care, including dental bonding, porcelain crowns, veneers, endodontics, dental surgery, and periodontal treatments.