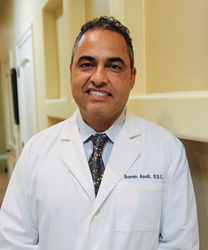 Northridge, CA (PRWEB) August 28, 2015
Northridge dentists Dr. Elyson and Dr. Assili are now offering patients a special price on Zoom teeth whitening. For just $199, patients can currently receive a one hour treatment of this teeth whitening option. Zoom whitening is similar to traditional in-office teeth whitening procedures, but it includes a number of unique features that can turn teeth up to nine shades whiter. Effective on a wide range of stains, Zoom teeth whitening can be ideal for patients desiring dramatic improvements or a regular treatment of re-occurring stains. This present offer makes getting a brilliant new smile more affordable for image-conscious patients.
Zoom teeth whitening is distinct from other in-office teeth whitening choices in terms of its process and its options. Instead of including just one round of whitening, a Zoom session includes up to three rounds of cleaning, application, activation and removal. Each time, the Zoom gel is activated with the patented Zoom light and is allowed to work while patients relax, watch television or read. After the treatment has concluded, fluoride can be applied to help prevent tooth sensitivity. Not only can Zoom teeth whitening be used repeatedly to increase its results, but it can also be performed regularly to maintain a brighter smile.
Dr. Assili and Dr. Elyson offer several cosmetic treatments in addition to Zoom teeth whitening. Dental veneers and crowns, two popular forms of aesthetic concealment, can be used to hide tooth cracks, gaps, chips, bad shapes and very heavy or internal stains. Bonding material, which is tinted to match surrounding enamel, is available to correct tooth shape, conceal flaws and repair decay. Invisalign orthodontic treatment is offered as a cosmetically superior way to straighten crooked teeth. A full range of restorations, including root canal treatment, are also available.
Dr. Elyson, and Dr. Assili graduated respectively from California State University, Northridge, with Bachelor of Science degrees in chemistry and biochemistry. Both dentists also earned their Doctorate of Dental Surgery degrees from the same university. Dr. Elyson, who has completed a residency program at the Misch Implant Institute, has studied in Seattle at the Kois Center and holds Invisalign certification. Dr. Assili, who also graduated from the Misch Implant Institute, has completed more than 500 hours of post-graduate study in cosmetic dentistry and has been treating sleep apnea and snoring with dental techniques for five years.