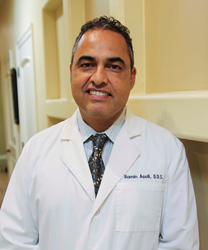 Northridge, CA (PRWEB) February 01, 2016
Northridge dentist, Dr. Elyson, and Dr. Assili now announce that they are now offering dental sedation to their patients. Dental sedation is ideal for a variety of patients. For individuals whose fear of dental treatment is placing their oral health at risk, sedation can make check-ups and procedures easy to tolerate. Patients who have neurological conditions or developmental disorders can also benefit from receiving sedation during appointments. Multiple levels of dental sedation are available, ensuring that patients can receive the precise amount that they need.
Inhaled, oral and IV are the basic three types of dental sedation used today. Inhaled sedation is the mildest and fastest acting of the three. Consisting of a mix of nitrous oxide and oxygen inhaled through a mask worn over the face, inhaled sedation also has mild anesthetic properties. Because nitrous oxide wears off quickly after treatment, recipients can drive themselves home afterwards. Oral sedation involves patients taking a pill prior to their treatment. IV dental sedation entails the injection of sedatives into the venous system, resulting in fast-acting, heavy sedation that often prevents patients from clearly recalling their treatment afterwards. With oral or IV sedation, patients have to arrange for transportation afterwards because they cannot safely drive.
Patients can visit Dr. Elyson and Dr. Assili, Northridge dental implant dentist, for a full selection of dental care, including restorations, cosmetic procedures, periodontal care, endodontics and Invisalign. Restorations offered include tooth-colored fillings, inlays, onlays and crowns. Veneers, teeth whitening and smile makeovers are among the cosmetic treatments available. Root canal treatment is available for preserving infected teeth, and Invisalign is offered to qualifying patients who want a discreet pathway to a healthier, more attractive smile.
Dr. Elyson and Dr. Assili both graduated from California State University, where they earned their respective undergraduate degrees in chemistry and biochemistry. At UCLA, both dentists earned their Doctorate of Dental Surgery degrees. In the years since, Dr. Elyson and Dr. Assili have earned certifications in a variety of dental specialties, including cosmetic treatment and dental implants. As members of several major dental organizations, Dr. Elyson and Dr. Assili are reputable providers of dental care for patients who want their teeth to look and feel great.