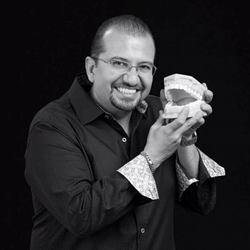 Orange County, CA (PRWEB) September 28, 2016
Orange County dentist, Dr. A. Rassouli now offers state-of-the-art surgery to treat gum recession. This advanced procedure, which is called the Chao Pinhole® Surgical Technique, can correct gum recession without scalpels or sutures. Without treatment, a receding gum line can lead to increased dental sensitivity, root decay, and tooth loss. A receding gum line can also affect the aesthetics of your smile.
Gum recession affects millions of people, and the incidence increases with age. Common causes of gum recession include:

Aggressive brushing or flossing
Gum disease
Heredity
Lifestyle factors
Age
The Chao Pinhole® Surgical Technique is performed under local anesthesia. Once the gum tissues have been loosened, they are expanded and enlarged. They can then be guided over the roots of the teeth to protect them from further damage. The Chao Pinhole® Surgical Technique is highly effective at treating gum recession and can help reduce the risk of recession-related dental health problems.
Dr. Anthony Rassouli can use the Chao Pinhole® Surgical Technique to treat gum recession without the need for donor tissue, grafts, incisions, or sutures. The healing process tends to involve less post-surgery discomfort and immediate cosmetic results.
"Our focus is making your teeth and gums healthy and keeping them that way," Dr. Rassouli's team said. "We use the latest technology and incorporate the most advanced materials into our practice, and every member of our staff is fully committed to your comfort and your smile." Other procedures are also available, including periodontal treatments, dental implants, Invisalign, one-visit crowns, TMJ treatments, sleep apnea treatments, teeth whitening, porcelain veneers, and general dentistry.
About Dr. A. Rassouli
Dr. Rassouli is a graduate of the University of Southern California's Dental School. He was recognized for his academic achievements and leaderships with several awards during his time there. He worked on the Accreditation and Ethics committees, as well as served as the class president. Dr. Rassouli later became a part-time clinical faculty member at USC and served on the Century Club. He cofounded the South Coast Dental Academy, which offers Orange County-area dentists with ongoing dental instruction in the latest technology and techniques.