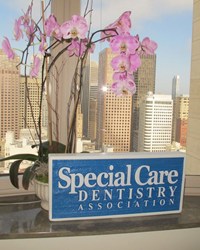 Certain qualities make dentists who specialize in special care dentistry stand out from those who simply offer it as a supplemental service
San Francisco, CA (PRWEB) July 27, 2013
Recent advances in dentistry have improved the comfort, reliability and convenience of treatment for special needs patients. But how can patients and their caregivers decide on the best dentist for their unique situation? Itani Dental in San Francisco explains the criteria of a special needs dentist, and what patients should look for when selecting their dentist.
"Certain qualities make dentists who specialize in special care dentistry stand out from those who simply offer it as a supplemental service," said Dr. Samer Itani.
According to Dr. Itani, potential patients should consider a special needs dentist who:

Stays up to date with the latest technologies and techniques specific to the special care dentistry field
At the recent Special Care Dentistry Association's (SCDA) 25th Annual Special Care Dentistry Conference in New Orleans, Itani Dental staff learned new advancements and techniques in treating older adults and special needs patients as determined by experts in this field. Itani Dental has been involved with SCDA, an international health organization of oral health professionals dedicated to promoting the oral health and well-being of people with special needs, for nine years and continues to advance and share his knowledge by participating in SCDA events.
Itani Dental has also been honored as a recipient of the SCDA Plaque, which was custom-made and handcrafted by a company that proudly hires individuals with intellectual and developmental disabilities.
Collaborates with other professionals in the field to improve the quality of healthcare for special needs patients
As a member of The American Academy of Developmental Medicine and Dentistry (AADMD), an organization founded in 2002 dedicated to improving the quality of health care for patients with neurodevelopmental disorders and intellectual disabilities (ND/ID), Dr. Itani collaborates with members who contribute their expertise to training universities and healthcare centers.
Advocates for better options for special needs patients
As an advocate for special needs dentistry, Dr. Itani shares his expertise with the dental community, as a member of organizations such as SCDA and AADMD, and through local media such as KRON 4 News. During a special segment on this leading Bay Area news station, Dr. Itani explained that providing services that improve access and quality of care, such as home care dentistry, helps break down barriers that prevent patients with phobias, mobility issues or behavioral or cognitive disorders from receiving quality dental care. This special segment is available to view on the web at http://youtu.be/QqulZH9trrc
Has the specific expertise, affiliations and equipment to practice special care dentistry
Dr. Itani's practice has focused on providing quality, expert special-needs dentistry services to patients since its inception. Patients with special needs can have a difficult time visiting a dentist, including mobility limitations. Dentistry to Your Door—a House Call Dentistry service—is one way Itani Dental addresses mobility challenges by coming directly to a patient's home; residential and assisted living community; skilled nursing facility; Alzheimer and memory care center; and hospital. Dr. Itani and his team of experienced dental professionals provide specific expertise, equipment, mobility, and sedation options to address obstacles experienced by special needs populations. In addition to his experience in sleep and sedation dentistry, Dr. Itani is affiliated with several San Francisco-area hospitals for situations that require general anesthesia, making him one of the Bay Area's leading special needs dentists.
For more information about how to choose a special needs dentist in San Francisco, or for more information about Itani Dental's dental services, call (415) 830-9631, visit http://www.itanidental.com, or stop by 450 Sutter Street, Suite 2318 in San Francisco, California. Become a fan of Itani Dental on Facebook at facebook.com/ItaniDentalSanFrancisco and follow them on Twitter @ItaniDental to stay up to date with the San Francisco dentist's latest offers, promotions and news.
About Itani Dental
Our office provides dental services for the San Francisco Bay Area. We specialize in special care dentistry, home care dentistry, treatment of phobic and senior patients, 24-hour emergency dentistry, as well as dental implants and cosmetic dentistry.
Based in downtown San Francisco and serving the entire Bay Area, Dr. Itani provides a personalized, compassionate approach to dentistry. Our practice offers a full range of individualized dental services—from regular cleaning and check-ups to cosmetic veneers, Invisalign and dental implants.
We have more than a decade of experience working with phobic, medically compromised, special needs, disabled and senior patients, and offer a full array of sedation dentistry options. We also work with patients on an emergency basis, and provide house call dentistry services to your home, group home, assisted living facility, or treatment center.
As the first center for processing your body's fuel, excellent oral health is one of the easiest ways to maximize your well-being. At Itani Dental we firmly believe that improving the health of your teeth and gums improves your overall health, and everyone should have access to quality dental care.