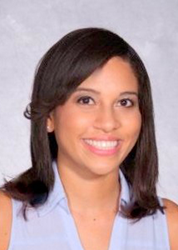 "We believe in providing healthy smiles for a lifetime" - Dr. Scalera, Jr., a general dentist and director of Dentalcare Associates
Scotch Plains, N.J. (PRWEB) January 24, 2017
Dr. Maria A. Jalloh has joined Dentalcare Associates, a multi-specialty dental practice helping patients for nearly six decades. She joins Dr. Robert V. Scalera, Jr., Dr. Martin L. Marks, and Dr. Lara Merker.
"Dr. Jalloh is a welcome addition to our practice," said Dr. Scalera, Jr., a general dentist and director of Dentalcare Associates (567 Park Avenue, Scotch Plains). "She understands the philosophy of our office. We believe in providing healthy smiles for a lifetime. Preventive care and education are the keys to the best dental health."
Dr. Jalloh is a graduate of Rutgers University. After earning her degree from Rutgers, she studied biomedical sciences at the University of Medicine and Dentistry of New Jersey, now part of Rutgers. She went on to earn her Doctor of Dental Surgery degree at New York University College of Dentistry.
At New York University, she was a member of a team, consisting of prosthodontists and biomedical engineers, researching "Osseointegration in Dental Implants." She was awarded an Honors in Research for her contributions to the study. After dental school, Dr. Jalloh completed a general practice residency at the Veterans Administration Medical Center at Lyons, N.J.
She is Invisalign certified and provides all phases of general dentistry. She is a member of the American Academy of Cosmetic Dentistry, the Academy of General Dentistry and the American Dental Association.
"I am very happy to be part of such a diverse and modern practice," Dr. Jalloh said. "I look forward to being part of the Dentalcare team and keeping many more smiles in central New Jersey healthy and bright."
All phases of dentistry are offered at Dentalcare Associates (njdentalcare.com/) in a comfortable, modern office setting. The practice provides reduced radiation digital x-rays, intro-oral imaging, computerized cavity detection and strict sterilization procedures.
The practice offers dental services for all ages including exams, x-rays, cleanings, sealants, fillings, crowns, root canals, periodontal therapy, dental implants and dentures. Some of the denture services include implant overdentures, full and partial dentures, flexible partials, emergency denture replacement and relines. A lab on the premises many times offers same day denture repairs.
Find out more about the practice at njdentalcare.com/
Dentalcare Associates
567 Park Avenue
Scotch Plains, NJ
(908) 322-7800