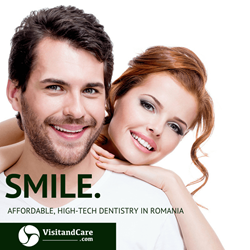 It's an enormous privilege to be partnered with Team Dental Clinic because our collective goal is helping patients find the right resources to improve their lives.
Los Angeles, CA (PRWEB) June 02, 2015
Highly qualified dental care specialists inside the leading Romanian dental clinic have unveiled a plan to drive prolific change in the dental tourism industry in Europe. As dentistry continues to progress, the TDC Team Dental Clinic offers a full range of superior dental services in its high-tech facility, and an expert management structure for dental tourism.
Partnered with a top medical tourism agency, the Romanian dental care team is committed to advancing dentistry and has earned a reputation as an influential provider for its work in the dental tourism industry. The TDC team sets themselves apart by not only offering affordable, high-tech dental treatment, but also educating patients with an in-depth look at oral health.
Founder of TDC, Dr. Vasile Caia, has brought together over 20 extensively trained specialists in different fields of dental medicine. Dental Tourism Manager, Isabella, is dedicated to the organizational arrangement of every dental patient's journey to the perfect smile. Isabella will not only structure the appointments, accommodations, and flight arrangements, but also organize sightseeing in Timisoara to give TDC patients a prosperous holiday adventure.
Advanced Dental Treatment —
Team Dental Clinic offers advanced dental care treatment in Timisoara, including dental implants, dental prosthetics, dental aesthetics, endodontic treatment, orthodontics, periodontics, inhalation anesthesia, dental x-rays, and dental prophylaxis.
Following a hugely successful year, the top dental clinic in Romania has earned excellence in a variety of cosmetic specialties, including dental implant reconstruction and dental restoration techniques.
Why Choose TDC?

The clinic offers a wide range of dental services with highly qualified specialists available for every branch of dental medicine.
Patients benefit from latest dental techniques and pioneering technology.
Patients will be able to communicate freely with each of our professionals.
The TDC team is patient and works diligently to perfectly understand one's needs.
Prices are affordable and fully accessible.
Affordable and Satisfying Dental Experience —
The VisitandCare.com dental provider's goal is to provide long term success and beautiful, healthy smiles to every patient traveling to the leading dental clinic in Timisoara. The clinic is on a stellar mission to deliver superior and affordable treatment to the overwhelming 80 percent of the population that is distressed with dental issues.
"It's an enormous privilege to be partnered with Team Dental Clinic because our collective goal is helping patients find the right resources to improve their lives. Our exclusive medical providers give you a unique feeling that VisitandCare.com stands for. Ultimately, it underlines exactly what our brand is all about. Their dedication to innovation, meticulous detail and strong vision for the dental tourism industry is impressive," stated Tolga Umar, CEO and Founder of VisitandCare.com.
In 2015, TDC will continue to deliver the highest possible standards of dentistry and personalized dental treatment to patients across the globe.
About VisitandCare.com
VisitandCare.com was created to give individuals worldwide valued direction locating a doctor, obtain free medical treatment quotes, and uncover affordable medical treatments at destinations of their choice. Improving Patients Lives |The company provides access to exclusive doctors and hospitals who specialize in infertility, plastic surgery, cosmetic dentistry, laser eye surgery, orthopedic surgery, hair transplantation, weight loss surgery, heart surgery and cancer care. Patients are matched with devoted multilingual patient facilitators and provided tangible connections to doctors worldwide. Promoting Your Healthcare Brand | For the ultimate connection between the healthcare industry and patients worldwide, the company delivers an unrivaled commitment to create sustained value for medical partners. Contact VisitandCare.com to see if you are eligible to become a partner of our exclusive network.