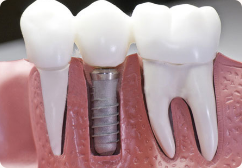 Los Angeles, California (PRWEB) April 04, 2014
It is no secret that most general dentists in Woodland Hills do not have the time or extra resources to offer complimentary services to their clients, but Dr. Kanani is very different.
Heralded as one of the best family dentists Woodland Hills, Dr. Kanani lives up to his role as a caregiver who offers patients more than what the average dentist ever will. Amongst other things, Dr. Kanani is offering complimentary consultations for first time patients. This bold move will encourage more people to pay a visit to the dentist, and in the long run, more attention to their oral health. It is a known fact that many people tend to stay away from dentists because of the high consultation fees that come with it. Not only that, oral procedures such as oral surgery and dental implants cost a lot and as many are not able to afford them, they choose not to bother. Dr. Kanani wishes to change the public's mindset and wants to let them know that affordable general dentistry in Woodland Hills exists. Here are some of the benefits of visiting Dr. Kanani's dental clinic.
1. Lower Than Usual Rates
A benefit to being a patient of Dr. Kanani's is to take advantage of his lower than average rates, especially when it comes to dental implants. It is undeniable that dental implants cost a bomb, but because Dr. Kanani has mastered a revolutionary method of performing this procedure, is able to offer his patients a much cheaper rate. Patients have been known to save up to $4,000 when they choose to have Dr. Kanani perform their dental implants as opposed to someone else.
2. Complimentary Services
Dr. Kanani and his team take pride in their work and make every available effort to improve the lives of others. One way of doing this is by offering patients complimentary services such as consultations and $29.99 X-rays.
3. Quality Services
New patients need not worry about the quality of work being offered. Dr. Kanani and his team are highly trained and experienced with it comes to the ins and outs of dental care. Dr. Kanani performs FDA-approved procedures and boasts an almost nonexistent rate of post-surgery issues. Dr. Kanani is highly qualified to perform a myriad of dental procedures and has earned himself the reputation of one of the best family dentists in Woodland Hills.
4. Care and Advice By Specialists
As a fully qualified dental specialist, Dr. Kanani offers to diagnose the patient's oral health for free and then proceeds to offer advice on their next course of action. It is because he loves what he does that he is willing to waive all consultation fees for first time patients. Patients can rest assured that they are garnering top advice from one of the best in the industry.
Whether one is looking for a general dentist Woodland Hills, or a professional family dentist who specializes in oral surgery, Dr. Kanani is the person to get in touch with. His team of specialists are highly trained and very disciplined when it comes to their work. For more information on how to make an appointment with this top Woodland Hills dentist, call (818) 962-1141 or visit http://www.woodlandhillsdentalspa.com.
Press Release by:
Gray Element LLC.
SEO-eMarketing-Traffic Building