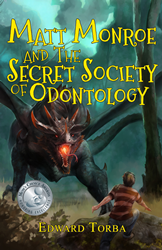 "Many parents are unaware that tooth decay is the number one chronic health problem of children." --Dr. Edward Torba.
PITTSBURGH (PRWEB) February 06, 2019
February is National Children's Dental Health Month and author and dentist, Dr. Edward Torba, is using his new dental-themed fantasy novel to raise funds for pediatric dental charities. Torba released his first children's fantasy novel in a series, "Matt Monroe and the Secret Society of Odontology," in November to rave reviews. He will hold book events and share his Top 10 Dental Tips for Kids throughout the month to raise funds for the pediatric dental program at UPMC Children's Hospital of Pittsburgh.
To drive home his passion for dental care, Torba will offer 30% of his book sales in February and March to the Children's Hospital of Pittsburgh Foundation's Pediatric Dentistry Fund to provide support for dental programs and the hospital's mission of excellence in patient care, teaching, and research. Dr. Torba will make appearances throughout the month of February and early March at local Barnes & Noble and Indie Bookstores. The next scheduled book events and fundraisers are:

Saturday, February 9, 1 p.m. Classic Lines Books 5825 Forbes Avenue, Pittsburgh, PA 15217
Saturday, February 16, 4 p.m. - 6 p.m., Cranberry Barnes & Noble, 1000 Cranberry Sq, Cranberry Twp, PA 16066
Sunday, February 17, 1 p.m. - 4 p.m., Waterfront/Homestead Barnes & Noble 100 West Bridge Street, Homestead, PA 15120
Saturday, February 23, 1:30 p.m. Riverstone Book Store 8850 Covenant Avenue, Pittsburgh, PA 15237
Books will be available for purchase at some bookstores prior to the events, and Dr. Torba will sign them after a short reading on the day of the event. For a complete list of dates/locations, go to edwardtorba.com.
Torba's middle-grade fantasy novel deftly weaves the world of dentistry into what has been called a "Harry Potter style fantasy with a dental twist." The book has already garnered two awards, the Mom's Choice Award and Pinnacle Award for Best Juvenile Fiction, and is expected to be an instant classic among middle-schoolers as they tag along with Matt Monroe and his friends on a journey to fight evil and save the world. The book is available on http://www.edwardtorba.com, IndieBound, Barnes & Noble, and Amazon.
As a local dentist, oral health is important to Torba, and he wants to encourage his young readers to take dental care seriously.
"Many parents are unaware that tooth decay is the number one chronic health problem of children," says Torba.
Dr. Torba offers a few helpful dental facts for parents:

Children's teeth begin to develop between the third and sixth months of pregnancy, so be sure to get plenty of nutrients and eat a balanced diet.
Developing good dental health habits with your child early on and practicing them daily will help your child's smile and overall health.
Untreated tooth decay can lead to pain and infections, which can affect a child's ability to speak, eat, play, and learn.
You can pass cavity-causing germs to your baby, so don't put their pacifier in your mouth to clean it.
Take your child for a check up after the first tooth arrives or by the time they turn one.
Encourage you kids to eat foods low in sugar.
Brush your child's teeth for two minutes, two times a day. Take turns—brush your child's teeth one time and then have them do it—in order for them to practice!
For a complete list of Dental Tips and Resources, or to keep up with News of the Matt Monroe book series, click here.
About the Author
Edward Torba is the founder of All Points Press and the author of the Matt Monroe middle-grade fantasy series. He graduated from the University of Pittsburgh with a B.S. in biology in 1973 and a D.M.D. in 1977. He has been a general dentist for more than 35 years, practicing in Latrobe, Pennsylvania. His lifelong hobby has been writing. Publications to his credit: The Magic Trip, Boys Club Guide to Football, and now, Matt Monroe and the Secret Society of Odontology.
About UPMC Children's Hospital of Pittsburgh
Regionally, nationally, and globally, UPMC Children's Hospital of Pittsburgh is a leader in the treatment of childhood conditions and diseases, a pioneer in the development of new and improved therapies, and a top educator of the next generation of pediatricians and pediatric subspecialists. With generous community support, UPMC Children's Hospital has fulfilled this mission since its founding in 1890. UPMC Children's is recognized consistently for its clinical, research, educational, and advocacy-related accomplishments, including ranking 13th among children's hospitals and schools of medicine in funding for pediatric research provided by the National Institutes of Health (FY2017).