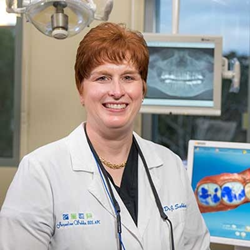 Patients may need little to no pain medication afterward and can often return to work with little downtime.
CALABASAS, Calif. (PRWEB) October 25, 2019
Highly respected dentist, Dr. Jacqueline Subka, treats patients in the Calabasas, CA region who want to reverse their receding gums with cosmetic dentistry but without resorting to traditional gum grafting surgery. A skilled dentist with an advanced practice located in Thousand Oaks, CA, Dr. Subka offers modern technology and cutting-edge techniques to ensure patients see the healthy, beautiful smile they need and want. As part of Dr. Subka's menu of services, she offers the minimally invasive Chao Pinhole® Surgical Technique, a breakthrough protocol that allows her to address gum recession without incisions or sutures.
Gum disease is an infection of bacteria that begins to destroy healthy gum tissue. Over time, the gums gradually detach from their place around the teeth, creating periodontal pockets and oftentimes leading to receding gums. Patients often complain of symptoms including tooth sensitivity and teeth that look uneven or too long. Gum recession can eventually lead to heightened likelihood of tooth decay and loose and shifting teeth. It should be noted that receding gums can also occur for reasons not related to gum disease, such as hormonal fluctuations, aggressive brushing and oral trauma.
The Chao Pinhole Surgical Technique, or PST™, relies on the general principles of gum surgery but offers a faster, less invasive way to obtain a beautiful smile. During a typical PST periodontal procedure, Dr. Subka carefully makes a small hole in the gums. Then, using specialized tools, she manipulates existing gum tissues into a more pleasing position. After surgery, patients report minimal swelling and bleeding. They also experience rapid recovery times.
As Dr. Subka explains, a major advantage to the Chao Pinhole Surgical Technique is that it requires only one surgical site. "There's no painful graft area where they remove the tissue from your palate," she notes. "It's a quick procedure." Patients may need little to no pain medication afterward and can often return to work with little downtime.
Dr. Subka offers state-of-the-art cosmetic dentistry, gum recession treatment and more at her practice in Thousand Oaks, CA. Adults from the Calabasas, CA area with receding gums interested in finding out if they are candidates for the Chao Pinhole Surgical Technique are invited to call Dr. Subka's office in Thousand Oaks, CA at 805-373-1919 to set up a consultation.
About the Dentist
Dr. Jacqueline Subka is a general dentist offering personalized dental care for patients in Thousand Oaks, CA since 1999. Dr. Subka received her dental degree from the prestigious University of Southern California School of Dentistry in Los Angeles. Dr. Subka practices gentle dentistry and incorporates state-of-the-art techniques to provide leading, minimally invasive care. She and her team are committed to continuing education and strive to provide high-quality, personalized dental care to each patient. To learn more about Dr. Subka and the dental services she provides, visit her website at http://www.subkadds.com or call 805-373-1919.