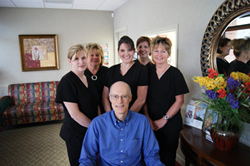 When the body is fighting infection in one area, it takes away energy from another area
Dentist, Graham NC (PRWEB) April 28, 2014
Periodontal disease, if left untreated, could put the body at risk of fatal heart disease. In a recent blog post, Graham dentist Jerome Crayle explained how this occurs: http://dentistgrahamnc.com/index.php/dentistry/graham-dentist-gingivitis-periodontal-disease/
"When the body is fighting infection in one area, it takes away energy from another area," said Dr. Crayle.
"The more the things that the body has to deal with at one time, the more stressful it becomes for the immune system. As such, the person becomes more susceptible to greater and deeper problems," he added.
Periodontal disease or gum disease is a chronic inflammatory disease that affects the gum tissue and other structures that support the teeth. If left untreated, it can lead to tooth loss.
A more serious danger is that bacteria could enter the blood stream through the mouth and weaken the entire immune system, thus affecting the lungs, liver, heart and other major organs.
In order to prevent gum disease, regular checkups with a qualified dentist are critical, particularly for people aged 35 years and older.
The reason why gum disease is particularly problematic is because it is asymptomatic, which means that the person does not experience any pain or discomfort until it is too late. It is only during a checkup that a dentist can diagnose the problem.
A dentist will notice the signs of periodontitis by visually inspecting the gum tissue and seeing either redness or swelling or both, which are signs of inflammation. In most cases, this examination will be carried out during the initial visit.
"Many times when a patient comes in for a checkup, we notice a gum pocket with pus coming out, even though the person never knew it or felt anything," said Dr. Crayle, dentist Graham NC.
Medical doctors are also paying greater attention to this problem. Patients are encouraged to get a clean bill of health from their dentists before they can get surgery to ensure the immune system can adequately support their recovery.
"Before a person can get a hip or a knee replacement, for instance, it is very important to get the mouth cleaned and in excellent condition because it does affect the rest of the body," said Dr. Crayle.
The Graham dentist has been practicing dentistry for 30 years. His years of experience enable him to help patients take the better route of prevention rather than cure.
Dr. Crayle proudly serves the residents of Graham, Swepsonville, Saxapahaw, Mebane, Snow Camp, Alamance, Haw River and Burlington.
To promote the message of "prevention is better and cheaper than cure", Dr Crayle is offering a limited-time dental cleaning package for only $77 (regular price $200). For information, please visit http://dentistgrahamnc.com/