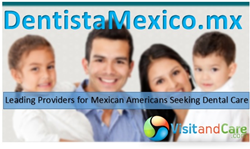 Many Hispanic individuals in the United States are at ease with traveling across the border for dental care. Our partnered dental clinics in Mexico are making this a comfortable transition.
Chicago, IL (PRWEB) June 25, 2014
According to the 2010 U.S. Census, Hispanics embody more than 50.5 million of the U.S. population — or one out of every six individuals. Widely underrepresented in medical and dental facilities worldwide, VisitandCare.com is partnering with elite dentists in Mexico who provide an initiative to address the gaps in oral health knowledge and access to affordable dental care for Mexican Americans.
Over half of the growth in the total population of the United States between the years of 2000 and 2010 was attributed to the increase in the Hispanic population. Oral health literacy, high treatment costs, and cultural barriers exemplify the major obstacles that many Hispanics face while living in the United States.
Dentistry in Mexico beholds an intrepid visualization that oral health for Mexican Americans should be embraced by improved prevention, treatment and education, and advanced knowledge concerning leading Hispanic oral health issues.
"Many Hispanic individuals in the United States are at ease with traveling across the border for dental care. Our partnered dental clinics in Mexico are making this a comfortable transition," states Tolga Umar, CEO and Founder of VisitandCare.com. "The alliance between VisitandCare.com and dentists in Mexico provides a prosperous opportunity relevant to the elevating U.S. dental costs and a plummeting availability of Mexican dental professionals."
Bridging the Gap on Dental Care
Today, more and more Mexican Americans are seeking reputable oral health practices, greater access to inexpensive dental treatments and dental insurance, and most importantly — overcoming the language barrier to find U.S. dental professionals who speak Spanish. This familiarity to relate to Hispanic speaking dentists emboldens a vision for the company to provide these exact resources.
VisitandCare.com is looking to support this familiarity with one of its most Hispanic acquainted services, DentistaMexico. The site offers an educational platform with information on oral health treatments and provides a connection to dental clinics in Mexico who further support the overall commitment to offer affordable, safe and reassuring dental care to Mexican Americans.
Mexico is now the foremost dental hub for Hispanic individuals, as the company has seen a 60 percent increase in Hispanic individuals traveling back to Mexico for dental care over the last year.
Top Dental Programs in the World
Dentalia and Sani Dental Group in Mexico provide superior services to Mexican Americans who feel the lack of adequate U.S. dental care and more so the distrust of many U.S. healthcare practices. Dentalia provides comprehensive dental services to patients in 42 clinics across 12 different Mexican cities — and growing.
Not only are Mexican dentists providing security and comfort for the Hispanic communities in the United States, but also the resources to:

Uphold oral health through improved prevention, treatment and education.
Provide advanced research for particular Hispanic oral health issues.
Offer a worldwide alternative to jarring U.S. dental services.
Illuminate high quality services, low costs, and compassion.
Partners of VsitandCare.com also see this as an opportunity to help individuals who are excluded from the U.S. health insurance system. While the majority of issues surrounding this matter are complex and multifaceted, it does relieve the urgency for those in vital need of dental care.
With an upsurge in the number of patients traveling back to Mexico in pursuit of affordable, no-wait dental services, dental clinics in Tijuana, Los Algodones, Cancun, Mexico City, and Playa del Carmen offer easy flights and short drives from the U.S. — and accomplished dentists who are now attracting masses of Hispanic Americans back home.
About VisitandCare.com
VisitandCare.com was created to give individuals worldwide valued direction locating a doctor, obtain free medical treatment quotes, and uncover affordable medical treatments at destinations of their choice. Improving Patients Lives |The company provides access to exclusive doctors and hospitals who specialize in infertility, plastic surgery, cosmetic dentistry, laser eye surgery, orthopedic surgery, hair transplantation, weight loss surgery, heart surgery and cancer care. Patients are matched with devoted multilingual patient facilitators and provided tangible connections to doctors worldwide. Promoting Your Healthcare Brand | For the ultimate connection between the healthcare industry and patients worldwide, the company delivers an unrivaled commitment to create sustained value for medical partners. Contact VisitandCare.com to see if you are eligible to become a partner of the exclusive network.