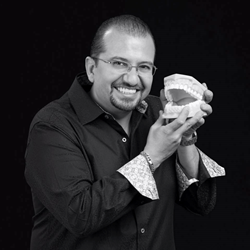 Huntington Beach, CA (PRWEB) August 10, 2016
Huntington Beach dentist, Dr. Rassouli, is now offering Chao Pinhole® surgical technique. The Chao Pinhole® surgical technique, or PST, can be used to treat gum recession due to periodontal disease or other causes. This is one of the most advanced treatment options available today and eliminates the need for scalpels or invasive procedures. Patients can enjoy all the benefits of a healthy gum line without the need for painful surgery or uncomfortable sutures.
Gum recession is a common problem that can develop as a result of periodontal disease, but it also affects people as they age. Gum recession can occur as a result of aggressive teeth brushing, bruxism, malocclusion, and other factors. Once the gums recede the tooth roots become exposed, and because this area has less enamel, they are more vulnerable to decay and sensitivity. Restoring a healthy gum line can protect them and reduce the risk of long-term dental problems. Gum surgeon, Dr. Rassouli offers the Chao Pinhole® surgical technique as an effective yet conservative treatment option to protect teeth from the risks of gum recession.
The procedure is performed under local anesthetic and can typically be completed in a single appointment. The benefits include:

Faster recovery
Faster healing
No need for donor tissue or grafts
No incisions or sutures
Natural-looking results
Less post-procedure discomfort
Long-lasting results
Immediate improvement
Along with periodontal treatments such as PST, Dr. Rassouli offers comprehensive dental care, including preventive dentistry, restorative dentistry, dental implants, teeth whitening, dental veneers, smile makeovers, Invisalign, emergency dentistry, one-visit crowns, sleep apnea treatments, and TMJ treatments. "Our focus is making your teeth and gums healthy and keeping them that way," his team says. "We can help you attain the smile of your dreams!"
About Dr. Rassouli, Oral Surgeon
Dr. Rassouli is a graduate of USC's dental school, where he served on the Accreditation Committee. After graduation, he continued his commitment to the school by becoming a member of USC's prestigious Century Club. Since then, Dr. Rassouli cofounded the South Coast Dental Academy, an organization that is dedicated to providing a variety of ongoing dental programs to dentists in Orange County and the surrounding areas.