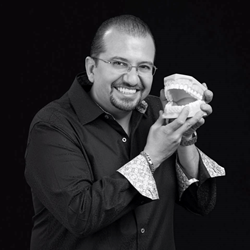 Huntington Beach, CA (PRWEB) June 02, 2017
According to a recent study from King's College London, people with dental anxiety are more likely to suffer from tooth decay and tooth loss. Dental phobia and dental anxiety can interfere with a person's ability to seek dental care, and become so severe that patients not only delay routine check-ups, but are even unwilling to seek care when they are in pain. This can lead to more adverse outcomes, according to the study. Dr. Rassouli, a top dentist in Huntington Beach, comments on the study that links an increased risk of dental disease to dental phobia.
The study, which was published in the "British Dental Journal" and described in MedicalXpress.com, revealed that people with dental phobia tended to have one or more decayed teeth, as well as at least one missing tooth. They were also more likely to have a reduced quality of life, a link that researchers theorized may be due to the link between anxiety and a person's psychological and emotional well-being. More than 10,900 people were involved in the study, and of those, more than 1,300 were dental phobic.
While there is no single or simple cure for dental phobia or anxiety, treatment is available. Dr. Rassouli offers dental sedation, which can make it easier and more comfortable for anxious patients to get the care they need. Sedation dentistry can include the use of medications to induce relaxation. Our dentist may recommend:

Inhaled sedation, or nitrous oxide, which is the lightest form of sedation and highly effective for mild anxiety
Oral sedation, which can be taken before the appointment and can be an effective form of moderate sedation
IV sedation, which is a deep form of sedation that allows patients to relax deeply and sleep through their treatment
Dr. Rassouli offers other treatments as well, including routine checkups and cleanings, same day dentistry, porcelain veneers, tooth-colored fillings, sleep apnea treatments, TMJ treatments, teeth whitening, and restorative dentistry.
About Dr. Rassouli, Oral Surgeon Huntington Beach
The co-founder of the South Coast Dental Academy, Dr. Rassouli is committed to ongoing dental education and remains at the forefront of the dental technologies that can provide his patients with the safest, most comfortable experiences possible. He is a native of the Southern California area and a graduate of the University of Southern California.
Source: https://medicalxpress.com/news/2017-04-phobia-dentists-tooth-loss.html