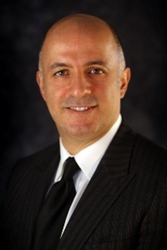 Los Angeles, CA (PRWEB) November 28, 2016
Dr. Bijan Afar, periodontist at Wilshire Dental Care, comments about the effects of e-cigarettes on oral health, shown as a result of new studies. Vaping has become a popular alternative to smoking. Electronic cigarettes are often considered safer than traditional cigarettes, and twice as many teens and young adults use them than older adults. However, recent research indicates that vaping may not be so safe for dental health. According to this new study, which was published in "Oncotarget," vaping may even be more harmful than cigarette smoking. Dr. Afar, periodontist, explains.
"Electronic cigarettes are an alternative to conventional cigarettes. They consist of a cartridge filled with a nicotine solution and a battery-operated heater. The heater vaporizes the nicotine solution, and the vapor created can then be inhaled. There is no tobacco in e-cigarettes, but they still contain nicotine, as well as propylene glycol, flavoring agents, and other chemicals," explains Dr. Bijan Afar.
Tobacco use has long been linked to dental issues ranging from tooth decay and gum disease, to tooth loss and oral cancer. Smokers are often encouraged to visit their dentist more frequently because of these risks. Frequent dental exams can spot early signs of trouble and ensure tobacco users get the care they need.
The researchers involved in this study determined that the vapor from e-cigarettes may be just as harmful as tobacco. It was found to trigger the release of inflammatory substances in the cells. The nicotine in the vapor is only partly to blame - flavoring agents seem to be just as problematic. Another study, which was published in the "Journal of Cellular Physiology," found that vapors from e-cigarettes killed more than half of oral epithelial cells within a few days.
About Wilshire Dental Care
Wilshire Dental Care is a multi-specialty dental practice that offers a wide range of services, including periodontal treatments, crowns, bridges, tooth-colored fillings, dentures, Invisalign, dental implants, teeth whitening, and porcelain veneers. With several locations from which to choose, patients can visit general dentists, periodontists, dental hygienists, cosmetic dentists, endodontists, orthodontists, and pedodontists. Dr. Afar, a top Los Angeles dentist, works with smokers to create personalized treatment plans based on their risk factors and needs.