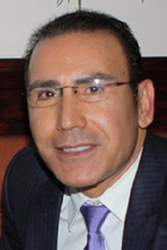 North Hollywood, CA (PRWEB) October 25, 2016
North Hollywood dentist, Dr. Hamid Reza, comments on the new research on preventing tooth decay in children. Although the prevalence of tooth decay has declined in recent years, more than forty percent of children have at least one cavity by the time they are eleven, and that number increases to nearly sixty percent by the time they are nineteen, according to the NIH. Tooth decay can destroy tooth structure in permanent teeth, and untreated tooth decay can lead to pain, infection and lost school days.
"Poor health in primary teeth can result in dental problems in adult teeth, as well as a lifetime of dental issues, which could affect that person's long-term health and well-being. Tooth decay is highly preventable even in children", said Dr. Hamid Reza. Parents can begin by wiping their babies' gums after each feed and teaching them good dental hygiene habits right from the start. This should include regular dental checkups beginning at twelve months of age or by the time the child has his or her first tooth. Dr. Aminian, pediatric dentist, may also recommend preventive treatments, such as fluoride applications and dental sealants.
According to recent reports, a team of researchers has been analyzing the composition of saliva in children between one month and five years old. Those who do not develop a healthy microbiome, or mix of oral bacteria, are those who appear to be at the highest risk of developing tooth decay. Researchers are continuing to focus on several factors associated with tooth decay and reducing its incidence in children, including:

Discovering how the oral microbiome is established
Identifying early biomarkers that could indicate a child's risk of tooth decay later in life
Encouraging a healthy balance of beneficial bacteria to better control disease-causing bacteria
About Hamlin Dental Group
Van Nuys dentist Dr. Hamid Reza has more than two decades of experience. He offers dental surgery, endodontic treatments, preventive and cosmetic dentistry. He is an active volunteer and is committed to bringing quality dental care to those who need it most. He is a member of the San Fernando Dental Association, the California Dental Association and the American Dental Association. He works closely with Drs. Koshkerian, Yessaian, Woo, Wang, Vafadar, and Aminian to offer comprehensive dental services to the patients of Hamlin Dental Group.