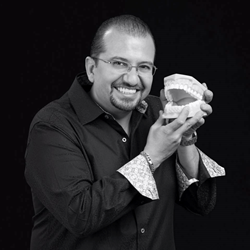 Orange County, CA (PRWEB) October 26, 2016
Orange County dentist, Dr. A. Rassouli, is now offering same day teeth whitening services, as well as other treatments. Same-day dentistry is easy to fit into even the busiest of schedules and can help patients get their smiles back faster. The treatments offered by Dr. Rassouli are among some of the most common and most necessary treatments in dentistry today.
Same day crowns are made possible through advanced 3D dental technology. Crowns used to take two visits to complete. The first visit would entail preparing the tooth and taking impressions for the crown, but the crown would not be placed until the second appointment. With same day crowns, patients can have their teeth prepared and restored in a single visit, eliminating the need for temporary restorations, multiple visits, and more than one anesthetic injection.
Teeth whitening procedures can also be completed in just one day. Instead of needing to wear bulky mouth trays filled with whitening solution for many days in a row, patients now only need to attend a single one-hour appointment, during which their teeth can be lightened up to eight shades.
Finally, emergency dental care is also now available. Dental emergencies should be addressed as soon as possible. Dr. Rassouli's treatment options can stabilize his patient's dental health and prevent the problems from worsening. These can include root canal therapy, dental extractions, dental fillings, crowns, or other treatments as needed.
Dr. Rassouli offers comprehensive dental care that includes:

Preventive dentistry, such as checkups, cleanings, fluoride treatments, and dental sealants
Restorative dentistry, including bonding, fillings, inlays, and onlays
Cosmetic dentistry, including teeth whitening, porcelain veneers, and orthodontics
About Dr. A. Rassouli
Dr. A. Rassouli is a graduate of the University of Southern California Dental School. During his time at USC, Dr. Rassouli spent four years serving as class president. He also served on the Ethics and Accreditation committees and was recognized for his academic accomplishments and leadership skills. After graduation, he accepted a position as a part-time clinical faculty member and joined the prestigious Century Club. He is the co-founder of the South Coast Dental Academy, which provides advanced and ongoing dental instruction to Orange County-area dentists.