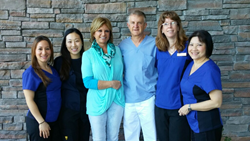 Agoura Hills, CA (PRWEB) July 24, 2015
Agoura Hills dentist, Dr. Philip Shindler, is now welcoming new patients with a special offer. For a limited time, new patients can get a complete oral examination with dental X-rays, an oral cancer screening and a sleep apnea evaluation. Regular dental checkups can help patients keep their smiles and their whole bodies healthier. Many health issues have symptoms that show up first in the mouth, and a regular dental screening can be an important way to catch them in early, treatable stages.
Finding the right dentist can be a big job for many patients without a dental home. Unfortunately, failing to get regular dental care can have serious consequences. Studies have shown that up to half of Americans in some states skip routine dental care and only search for a visit once a problem has developed. When people visit their dentist regularly, their dentist can better understand their individual needs and can even spot problems long before they become symptomatic, which can reduce both discomfort and the risk of long-term problems.
Dr. Shindler offers a wide range of dental treatments, including:

Restorations such as tooth-colored fillings and porcelain crowns
Preventive care such as dental sealants, fluoride treatments and CariFree
Dental implants restorations, including crowns, bridges and dentures
Teeth whitening and porcelain veneers
Invisalign
According to his team, "(Dr. Shindler) will go through any procedure step-by-step so that you are always aware of what is happening. And we take the time to educate you on how to properly care for your teeth on your own, so the next time you come to see us it is more of a check-up than a thorough exam." They take extra time with nervous or anxious patients to ensure they feel right at home and without any worry. "If you have a massive toothache or you are just looking for a whiter smile, our office can give you the treatment you need in a beautiful atmosphere," Dr. Shindler's team said.
About Dr. Philip Shindler, Expert in Teeth Whitening Agoura Hills
Dr. Shindler grew up in South Africa, where he attended the prestigious WITS University School of Dentistry in Johannesburg. After immigrating to California in 1981, Dr. Shindler continued his studies through a postgraduate program at the University of California, Los Angeles. He has since completed various seminars and study groups to remain on the leading edge of his field and has been working in the area for nearly three decades. Today, Dr. Shindler is a member of the Alpha Omega Dental Society, the American Dental Association and the California Dental Association. He is an active outdoorsman and a volunteer with the Wildlife Way Station.