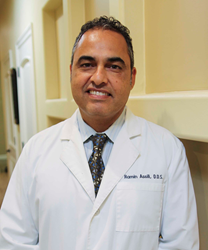 East Los Angeles, CA (PRWEB) December 29, 2016
East LA dentists, Dr. Assili and Dr. Elyson, announce that they are now offering a promotion for new patients. For $49.00, new patients can get an examination and complete full-mouth X-rays. This promotion cannot be combined with any other offer, and it expires on December 31, 2016. Regular dental care from an established dentist is key to achieve the best oral health possible, and this new offer reduces the cost normally associated with seeing a new dentist. This also makes it easier for patients to start enjoying the complete range of treatments available at Smiles LA.
Patients get many benefits from visiting a dentist regularly for check-ups, cleanings, and other care. Routine exams provide an opportunity for detection of not only oral health problems, but also certain systemic issues, so that treatment can be performed. Professional cleanings, involving the use of specialized instruments and techniques, can clear more plaque and tartar from the teeth than what at-home oral hygiene routines can. At Smiles LA, patients get a personalized dental plan for long-term improvement and maintenance of their oral health.
General dentistry, restorative care, cosmetic dental treatment, and more is available at Smiles LA. General dental care includes cleanings and exams, as well as other preventive care measures, such as fluoride and sealants. Restorations offered by Dr. Elyson and Dr. Assili include fillings, inlays, onlays, and crowns. Patients seeking cosmetic improvements can receive whitening, porcelain veneers, and smile makeovers among other options. The dentists offer sedation dentistry to make treatment more tolerable for patients who need it. Finally, the dentists offer dental treatments for TMJ and sleep apnea alongside their other services.
Dr. Assili and Dr. Elyson both graduated from California State University, where they earned his undergraduate degrees in Chemistry and Biochemistry, respectively. The dentists then attended the UCLA School of Dentistry, where they earned their DDS degrees. From 1999 to today, the dentists have been offering a full range of dental care at Smiles LA. Both dentists have continued to complete postgraduate training in specialties such as dental implants in order to provide the best care in all of the services they offer.