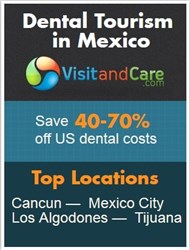 After 36 consecutive record months, these kind of results show the payoff from our longstanding strategy to offer patients exciting new treatments, committed partners and a sustainable business model.
Miami, FL (PRWEB) February 11, 2014
Never before has dental tourism seen such a dramatic increase — an outpouring of Americans seeking dental treatments across the border. VisitandCare.com announced that it has seen a 62 percent increase in dental patients traveling to Mexico over the last 3 years.
Affordability, experience and dedication are the hallmarks of dental tourism in Mexico. The focus is on cosmetic dentistry services, such as dental implants and dental veneers, but also its attractive general dentistry and orthodontics programs.
"Patients are driven by the affordable costs, and satisfying results," states Tolga Umar, CEO and Founder of VisitandCare.com. "After 36 consecutive record months, these kind of results show the payoff from our longstanding strategy to offer patients exciting new treatments, committed partners and a sustainable business model."
The exclusive network of dental clinics in Mexico offers full service dental practices that are conveniently accessible. With over 20 years combined experience and a comprehensive grid of cosmetic dentists and specialists, patients crossing the border from the US and Canada receive the ultimate in dental care.
The Very Best Dentistry Has to Offer
VisitandCare.com is now considered to be the flagship of dental tourism to Mexico — by significantly pushing the envelope on progress with marketing expertise and connecting patients worldwide to exclusive dental partners.
Led by top dentists and specialists who have received their training from many of the nation's prestigious educational and dental institutions, dentistry in Mexico combines artistic talent and progressive technology, identifying it as the most respected dental locality in the world.
In Tijuana and Mexico City, dentalia serves over 100,000 patients a year. The company believes in providing only the finest that dentistry has to offer and has stayed true to this belief by only accepting 5 percent of dentists that seek employment at dentalia. "Our uniqueness relies on its exceptional service culture, creating a positive experience for every patient that visits," states Margarita Calderon, Dental Tourism Manager for dentalia.
The clinic offers a guarantee with all of its services and world-class aftercare to provide the correct follow-up of its patients. Its steady growth is reflected in the 62 percent increase of patients referred by VisitandCare.com.
An increasing amount of patients see Mexico as today's leading alternative for dental treatment and an intelligent choice to save money. Sani Dental Group in Los Algodones save patients nearly 70 to 75 percent on their dental treatments — with some patients saving up to 90 percent over US and Canadian costs.
Asserting itself at the forefront of dental tourism, Sani has received the International Patient Services Certification by the Medical Tourism Association, becoming the first dental clinic in Mexico with this certification. "We have our own laboratory, which allows us to be in control of quality, including the materials we use. We offer 2 to 5 year warranties on our dental services and if a patient is not happy with the results or if something failed after the treatment, we will replace it with no cost for our patients and offer free accommodations for them," states Alejandro Gutiérrez, Marketing Manager of Sani.
With over 30 doctors on site, Sani Dental Group is continuing its commitment to provide affordable costs and innovative solutions that are improving oral health. "Being part of VisitandCare.com is awesome because it gives social proof of what we do. It's always easy to say you are the best, but to have people in the industry recommending you as a top clinic in the region is priceless," stated Alejandro Gutiérrez.
Full Service, Multi-Specialty Dental Providers
VisitandCare.com has exclusive providers in Cancun, Mexico City, Los Algodones, and Tijuana. The clinics offer comprehensive care with a special emphasis on a range of specialties, including dental prevention, specialty care, cosmetic and reconstructive dentistry, oral surgery and orthodontics. Dental treatments are consistently accomplished in safe, modern offices that give the highest consideration and attention to detail.
The company is also supporting dental tourism in Mexico with one of its most conversant products, DentistryinMexico.com. The site offers an educational platform with information that helps them to make informed decisions about oral health needs and provides a connection to dental clinics for the entire family.
In 2014, the medical tourism giant is on track to further advance the company's commitment to provide affordable dental care to new customers and gain traction on new strategic partnerships throughout Mexico.
It is this extensiveness and profundity of knowledge across every facet of medical tourism that makes VisitandCare.com stand apart from the rest of the industry.
About VisitandCare.com
VisitandCare.com was created to give individuals worldwide valued direction locating a doctor, obtain free medical treatment quotes, and uncover affordable medical treatments at destinations of their choice. Improving Patients Lives |The company provides access to exclusive doctors and hospitals who specialize in infertility, plastic surgery, cosmetic dentistry, laser eye surgery, orthopedic surgery, hair transplantation, weight loss surgery, heart surgery and cancer care. Patients are matched with devoted multilingual patient facilitators and provided tangible connections to doctors worldwide.
Promoting Your Healthcare Brand | For the ultimate connection between the healthcare industry and patients worldwide, the company delivers an unrivaled commitment to create sustained value for medical partners. Contact VisitandCare.com to see if you are eligible to become a partner of the exclusive network.
About DentistryinMexico.com
Leveraging today's state-of-the-art dental advancements, DentistryinMexico.com is an exclusive network of dental professionals in Mexico who can create results that change your life — whether you need a routine checkup, or more advanced procedures — cosmetic dentists in Mexico want to be an integral part of your lifetime commitment to oral health.