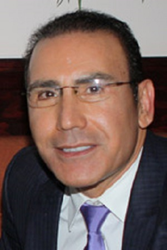 North Hollywood , CA (PRWEB) March 25, 2016
Cosmetic dentist, Dr. Hamid Reza, is now offering comprehensive cosmetic dental treatments. While preventive and restorative dental treatments are often a priority for many patients, the look of a smile can be just as important. Dr. Reza is proud to offer this option to his patients to help them achieve smiles that are both healthy and aesthetically appealing.
Cosmetic Dentistry
Cosmetic dental treatments can include:

These fillings restore teeth aesthetically and are one of the most natural-looking ways to fill cavities.
Whitening can restore the natural white color of teeth and erase stains from coffee, wine, tea, and other substances for a brighter, younger-looking smile.
Braces and clear braces are used to align the upper and lower jaws and straighten teeth for a healthier bite and more attractive smile.
Bonding is the use of tooth-colored material to correct minor flaws like chips and gaps.
Veneers are a special type of restoration that cover the front of the tooth. This allows dentists to restore many types of teeth, including teeth with gaps, misalignments, chips, fractures, and deep discolorations for a beautifully flawless smile.
About Dr. Hamid Reza, Teeth Whitening Dentist North Hollywood
Dr. Hamid Reza has spent almost two decades serving the community and works with a team of highly qualified dental professionals at Hamlin Dental Group. A member of the California Dental Association and the American Dental Association, Dr. Reza is an active volunteer who works with patients of all ages. Hamlin Dental Group includes both general dentists and dental specialists, including Drs. Woo, Yessaian, Koshkerian, Garemani, Wang, and Vafadar. The team is multilingual and can work with patients from a wide range of cultural and lingual backgrounds.
Hamlin Dental Group and Dr. Hamid Reza offer comprehensive dental care. Patients can benefit from routine cleaning and checkups, preventive care such as fluoride applications and dental sealants, and restorative treatments such as fillings and crowns. Specials and financing are available to make necessary care more affordable, and most dental insurance plans are accepted.