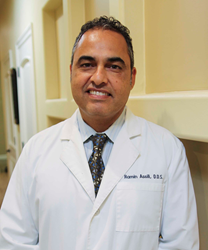 Northridge, CA (PRWEB) March 24, 2017
Northridge dentists, Dr. Michel Elyson and Dr. Ramin Assili, announce that they are now offering treatments for sleep apnea and TMJ at their office. TMJ, or temporomandibular joint disorder, has long been treated at dental offices. Sleep apnea, specifically the obstructive type, is increasingly being treated at dental offices with newly developed procedures and appliances. With treatment, patients with these conditions can gain greater quality of life and reduce their health risks.
Dental treatments for TMJ and sleep apnea are numerous. TMJ, characterized by jaw joint pain and debility, may be treated with oral appliances, medications, or surgery, depending on its cause and severity. Obstructive sleep apnea symptoms include frequent awakenings during sleep, daytime fatigue, and breathlessness during routine activities. Dental treatments for sleep apnea include oral appliances, which help keep the jaw and tongue from collapsing backwards and blocking the airway during sleep. Soft tissue surgery, another dental sleep apnea treatment, involves removing excess tissue from the airway to reduce risks of airway collapse during sleep.
The office of Dr. Elyson and Dr. Assili offers many dental treatments in several specialties. General dental care is available, which includes routine exams and cleanings. Several restorations, such as tooth-colored fillings, dental implants and bridges, are also performed. The office provides a full range of cosmetic dentistry, including teeth whitening, porcelain veneers and smile makeovers. Patients can also receive orthodontic care with Invisalign and other appliances. The office provides sedation dentistry options for eligible patients, and welcomes children from an early age. Treatments are performed using the latest technology, including laser dentistry.
Dr. Assili and Dr. Elyson both earned their undergraduate degrees from California State University, Northridge, with Dr. Assili majoring in Biochemistry and Dr. Elyson majoring in Chemistry. The dentists also both attended UCLA School of Dentistry, where they earned their DDS degrees. The dentists have continued their studies during their careers by completing many hours of postgraduate training in topics such as dental implants. Dr. Elyson and Dr. Assili are both reputable members of the American Dental Association, the California Dental Association, and several other organizations in their profession.