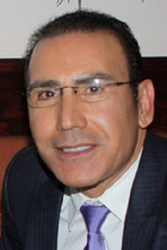 Northridge, CA (PRWEB) July 21, 2016
A recent study by the University of Alberta reveals that good dental hygiene may help reduce the risk of heart disease. A growing body of research has linked periodontal disease with cardiovascular disease, but this is the first study that has shown a direct link between untreated gum disease and atherosclerosis, or hardening of the arteries. Northridge dentist, Dr. Hamid Reza, comments on this new study linking a healthier mouth to a healthier heart.
About Dr. Hamid Reza
Dr. Reza has nearly two decades of experience in the field of dentistry. He began Hamlin Dental Group in 1994 as a comprehensive dental care practice that offers full-service dentistry to his patients and their families. "He strives to offer the best care and support to make a healthy smile possible for every patient, including those who do not have the opportunity or resources," his team said.
A member of the San Fernando Valley Dental Association, the California Dental Association, and the American Dental Association, Dr. Reza works with a team of highly skilled dental specialists and general dentists, including Drs. Garemani, Koshkerian, Yessaian, Woo, Wang, and Vafadar. They offer pediatric dental care, restorative dentistry, general dentistry, orthodontics, periodontal care, cosmetic dentistry, and endodontics.
Previous studies have found links between the two conditions, but this study identified a receptor on cells called CD36. This receptor interacts with the oral bacteria responsible for periodontal disease to produce interleukin-1 beta, or L1B, which increases inflammation. Inflammation is strongly linked to both periodontal disease and cardiovascular disease. "This better understanding of the connection between the two diseases can give scientists new avenues of exploration to identify targeted therapies to stop the progression of heart disease by intervening in the relationship between CD36 and oral bacteria" comments Dr. Reza.
Periodontal disease is a serious problem in the United States and affects about half of adults over the age of thirty-five. It can often progress unnoticed, and patients do not realize they have it until it has reached an advanced stage. Unfortunately, it is associated with other serious health problems including not just cardiovascular disease but also type 2 diabetes, osteoporosis, dementia, and pregnancy complications.
Regular checkups with Dr. Reza can help patients keep their smiles healthier. These checkups help spot earlier signs of gum disease, including:

Red or swollen gums
Gums that bleed easily, especially during brushing or flossing
Chronic bad breath
A bad taste in the mouth
Teeth that are loose
A change in bite
A receding gum line or visibly longer teeth
Pus along the gumline
Early diagnosis allows for more conservative treatment options and improved patient outcomes.