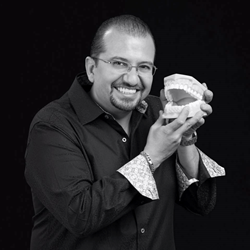 Orange County, CA (PRWEB) May 17, 2016
Dr. Rassouli, dentist in OC, is now offering same-day dental treatments. Same-day dentistry is making it easier to get needed dental care without taking too much time away from your busy schedule. In the past, common dental treatments like crowns and inlays could require two or more dental visits, but today, patients can spend less time at the dental office thanks to the latest dental technology. This technology makes it not just possible, but easy for Dr. Rassouli to design, make, and place aesthetic same day crowns and restorations in a single dental visit.
The Process
At a typical same-day appointment, Dr. Rassouli, crowns dentist in Orange County, would begin by evaluating the treatment site. The tooth would be numbed using a local anesthetic to keep the patient comfortable, and then prepared as usual. This generally involves removing any diseased tooth structure and shaping the tooth. The next steps are unique to the same-day process, and include:
1. Digital impression
Using a special handheld scanner no larger than a typical pen, Dr. Rassouli scans the tooth to create a digital impression, which is sent to a computer to recreate the tooth and design the crown or restoration.
2. Design
The digital impression is used to create a virtual model of the tooth. Dr. Rassouli creates a crown to match the tooth's natural contours precisely.
3. Create
Once the crown has been designed, the in-office milling unit will mill it out of a single block of porcelain, creating a restoration that is strong, durable, and attractive. The porcelain can be made to match the natural enamel color of the tooth for a restoration that is indistinguishable from the rest of the teeth.
4. Fit and Restore
Dr. Rassouli will check the fit of the crown and make any final adjustments before cementing it into position. The entire process can be completed in a single appointment, eliminating the need for extra anesthetic shots, second appointments, and time-intensive procedures.
Dr. Rassouli offers comprehensive dental care, including Invisalign, dental implants, emergency dentistry, cosmetic dentistry, restorative dentistry, sleep apnea treatment, oral surgery, and periodontal treatments.
About Dr. Rassouli
"Dr. Rassouli is an avid believer in the importance of continuing education," his team said. A co-founder of the South Coast Dental Academy, Dr. Rassouli is dedicated not only to staying current in the latest dental technology but also ensuring that ongoing dental instruction is available to fellow dentists in the Orange County area. He is a graduate of the University of Southern California's School of Dentistry, where he served on the Accreditation Committee. After graduation, he became a member of the prestigious Century Club.