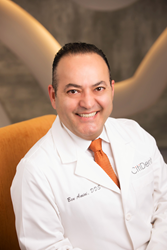 San Francisco, CA (PRWEB) June 02, 2017
Tooth decay and gum disease are common dental problems that continue to plague Americans in spite of improvements in preventive dentistry. Conventional treatments to treat these issues have included dental drills for cavities and scalpels for soft tissue applications, but both of these options have drawbacks. They can be uncomfortable or painful, and cause damage to surrounding tissue, extending recovery time. Patients might also experience anxiety or fear associated with the sounds of the drill or other necessary preparations for treatment. San Francisco dental office, CitiDent, is now using dental lasers for a variety of dental applications.
Dental lasers can be used for many different treatments and procedures, including:

Detecting cavities
Removing tooth decay
Helping with TMJ symptoms
Treating canker sores
Completing root canals
Tissue biopsy and removing lesions
Non-surgical periodontal (gum) therapy and gum pocket reduction
Dr. Amini and the CitiDent team offer two different dental lasers: the Diode laser and the Waterlase laser. They use light energy to perform a variety of treatments. The energy can be focused to remove diseased tissues without affecting healthy tissue, cure dental fillings, or quickly activate teeth whitening agents. Unlike noisy dental drills, lasers work virtually soundlessly, which can reduce anxiety in some patients. Lasers also tend to minimize pain and swelling while destroying bacteria, which can reduce discomfort during recovery and speed up the healing process. Although the Diode and Waterlase lasers are highly effective in a variety of applications, they might not be the right choice for every patient or for use in every treatment. Dr. Amini and the associate dentists at CitiDent may occasionally need to combine lasers with other instruments or use traditional instruments for some procedures.
About Dr. Amini
Dr. Amini graduated from the University of California, San Francisco, School of Dentistry, in 1996. Today, he is a respected member of both local and international dental organizations, including the Academy of General Dentistry (AGD), the California Dental Association, the American Dental Association, and a AGD sponsored lecturer offering continuing education courses. He is an assistant clinical professor at UCSF School of Dentistry, and dedicated to continued postgraduate training and incorporating new dental technology into his practice. CitiDent is a multi-specialty practice that offers comprehensive dental care for patients of all ages.