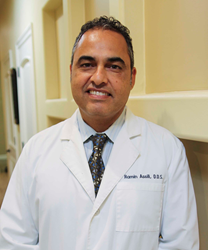 East Los Angeles, CA (PRWEB) June 08, 2017
East Los Angeles dentist team, Dr. Michel Elyson and Dr. Ramin Assili, announce that their dental office, Smiles LA, is now offering promotions on tooth replacement options. Presently, patients can visit the office to receive a dental implant for just $999.00. This promotional price does not include the restorative implant crown, and the offer cannot be combined with any other offer. Dental implants are the most life-like and long-lasting tooth replacement, but their price is higher than that of other replacement options. With the present offer, patients can more easily afford to replace their teeth in the best way possible.
Tooth replacement is generally done in one of three ways: with dental implants, bridges, or dentures. Dentures, the fastest option, are often of the removable type and rest on top of the gums, to which they attach by suction. Unfortunately, dentures may slip or click when patients eat or speak. Bridges, a stationary choice, require modifying healthy teeth and need hardware outside of the gums, making extra dental care necessary. Dental implants, unlike those other options, replace tooth roots, resulting in preservation of the jaw bones. Implants can also lack any external hardware and can last for life rather than only a few decades.
Smiles LA offers several treatments in a number of specialties. In addition to tooth replacements, the office provides restorations, such as tooth-colored fillings, inlays, and onlays. Cosmetic dentistry is also available, including teeth whitening, bonding, veneers, and crowns. The office also provides a full range of braces, such as Invisalign, metal braces, lingual braces, and ceramic braces. Finally, patients can receive children's dentistry, emergency dentistry, periodontal care, treatments for sleep apnea and TMJ, and wisdom teeth extraction at the office.
Dr. Assili and Dr. Elyson both earned their undergraduate degrees at California State University, Northridge, before earning their DDS degrees at UCLA School of Dentistry. Since 1999, the dentists have been treating patients in Northridge, offering a broad array of dental specialties. The dentists have completed many hours of postgraduate training, allowing them to provide up-to-date techniques and technologies to patients. Both dentists are active and reputable members of several professional organizations in their field, including the American Dental Association.