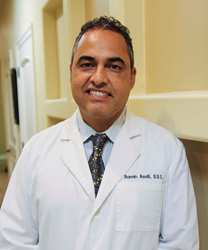 Northridge, CA (PRWEB) March 24, 2016
Dr. Elyson and Dr. Assili, dentists near Northridge, have commented on the link between mouth breathing and dental cavities found in a recent study. Dentists have long known about the connection between cavities and dry mouth, which prevents teeth from receiving the benefits of saliva. Mouth breathing, which causes the mouth to dry out, may be especially damaging to oral health when it occurs for long periods during sleep. According to researchers, dry mouth from mouth breathing may promote tooth decay by increasing oral acidity, resulting in tooth erosion. Studying the pH of people with and without mouth breathing tendencies during sleep confirmed this hypothesis.
For four days, participants in the study wore sensors that measured the pH and temperature of the mouth. During two of the four nights, participants wore nose clips to force them to engage in mouth breathing. While daytime oral pH was normal and only slightly higher than during normal sleep without nose clips, oral pH during mouth breathing was significantly lower. Furthermore, pH became even more acidic during some sleep stages to points below the levels known to cause tooth erosion. Oral temperature stayed similar with or without mouth breathing, pinpointing oral pH as the key difference involved. The researchers stated that these findings confirm that mouth breathing may cause tooth erosion and decay, which in turn may require root canal treatment.
Patients can receive a variety of dental treatments from Dr. Assili, sedation dentist in Northridge, and Dr. Elyson, including procedures that address problems now linked to mouth breathing. Decayed teeth can be treated with tooth-colored fillings and crowns. For infected teeth, the dentists can perform root canal treatment. Numerous cosmetic options are available, including veneers, teeth whitening and smile makeover. The dentists also offer Invisalign, dental implants, bridges, sleep apnea treatment and other services, including pediatric dentistry treatments.
Dr. Elyson and Dr. Assili graduated from California State University, Northridge, before attending UCLA for their DDS degrees. Both dentists have since earned multiple certifications in areas of specialization, such as implantology and advanced cosmetic dentistry. Today, the dentists are reputable members of several professional organizations at local, state and national levels. With a full range of treatments in several specialties, Dr. Elyson and Dr. Assili offer patients a convenient solution to all of their dental needs.