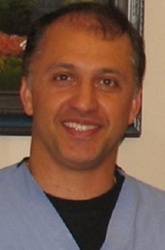 Torrance, CA (PRWEB) August 19, 2016
Torrance dentist, Dr. Robert Mondavi, offers Lava crowns and veneers for dental restorations. Lava restorations offer incredibly lifelike results and eliminate many of the limitations of previous generations of crowns, such as PFM and metal crowns. Patients who want conservative treatment alternatives with superior cosmetic results can benefit from Lava restorations.
Lava is a special type of porcelain that uses Zirconia, a strong, translucent crystal, and is widely considered to be the most attractive form of dental porcelain available today. The porcelain can be made to match the exact color of the patient's natural tooth. Once a Lava restoration has been bonded into place, there is no risk of rejection or allergic reaction. Lava can be used to make both dental crowns and veneers with an excellent long-term stability rate. Unlike PFM crowns, there will be no dark line near the gums. Lava crowns are beautifully translucent, unlike conventional porcelain crowns, which tend to be fairly opaque.
Candidates for Lava crowns include those who have:

Severely damaged teeth
Broken teeth
Cracked teeth
Teeth that have undergone endodontic therapy
Badly decayed teeth
Candidates for Lava veneers include those with:
Stained or discolored teeth
Chipped or cracked teeth
Worn teeth
Misaligned or gapped teeth
Unsightly teeth
Lava Zirconia is specially treated using heat and pressure to ensure maximum fracture resistance, and the core of the crown or veneer is covered with a special ceramic layer. This creates a restoration that is both strong and aesthetic. The placement process is the same as with other types of restorations, but the results are superior and highly fracture-resistant.
Dr. Mondavi and his team offer comprehensive dental care. "Some of our most asked about procedures include dental veneers, extreme makeovers, cosmetic and restorative dentistry, crowns and bridges, all-ceramic inlays and onlays, tooth implants, gum treatments, periodontal treatments, dentures and partials, night guards, athletic guards, root canals, and Invisalign," he said.
About Dr. Robert Mondavi
Dr. Mondavi graduated from the University of the Pacific of San Francisco School of Dentistry with his DDS and has since completed several advanced courses, including oral bioesthetic form and function, advanced implant training, and advanced cosmetic dentistry training.