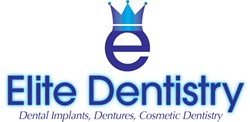 Elite Dentistry offers two different kinds of dentures and provides an in-house lab which often allow one day fabrication.
Austin, Texas (PRWEB) January 27, 2014
Elite Dentistry, top dentist in Austin, is now offering two different kinds of dentures. Elite offers both pre-fabricated and custom dentures and provides an in-house lab so they can be worked on very quickly. Call (512) 524-6131 for more information and scheduling.
Custom dentures work great for a number of reasons including improved aesthetics, boosted self confidence and better chewing ability.
Dr. Kaar, the top Austin dentist at the practice, will work on the dentures taking into account one's face and jawbone structure, and also patient preferences. He is then able to fabricate custom dentures in the on-site laboratory. The dentures have two separate price points based on custom versus "off the shelf".
Along with dentures, Elite Dentistry also provides dental implants that have the best price point in Texas. Dr. Kaar has extensive experience with dental implants, and is able to provide implants that both look and feel natural. Presently, the Austin dentist practice is offering $100 off initial visits for new patients.
For those in need of the best dentures Austin trusts, call Elite Dentistry today at (512) 524-6131.