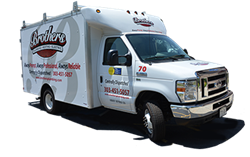 We think that providing this new air conditioning safety check will give more people a chance to get peace of mind
Denver, CO (PRWEB) June 19, 2015
Denver air conditioning company, Brothers Plumbing, Heating & Electric has been serving customers for over 35 years. They provide all types of air conditioning services including repair, replacement, maintenance and installation. They are now offering an A/C system safety check for $79 through summer expiring on 09/01/2015. "We think that providing this new air conditioning safety check will give more people a chance to get peace of mind when it comes to home and will also give new customers a chance to experience our services," says John Hicks of Brothers Plumbing, Heating & Electric.
Air conditioning in Denver is essential for maximum comfort in the summertime because temperatures can reach the mid 90's. According to John Hicks of Brothers Plumbing, Heating & Electric homeowners would be wise to make sure their equipment is functioning properly before there is a heat wave. "Once it gets hot we get very busy. Even though we are one of the largest service companies in the area we still can't handle the volume of calls we get from people who need air conditioning repair during a good heat wave."
The $79 A/C safety check from Brothers Plumbing, Heating & Electric is a complete overview of your home's air conditioning system. They clean the air conditioner coil of debris inside and out, make sure the unit is level and that there is clearance around the unit. They measure air flow, check the temperature of air coming from the coil, of air going to coil and they verify supply and return air vents are open. They do an electrical inspection which includes inspection of the main disconnect, amp draw of the air conditioner, amp draw of the condenser motor, primary voltage, and secondary voltage. They check the refrigerant level, Sub cool/superheat readings, cores, filter dryer and they make sure thermostat is programmed and in good condition and that the backup batteries are in good shape.
In addition to all types of air conditioning services Brothers is also an experienced Denver plumbing company. "We handle all types of plumbing repair including drain cleaning, sewer repair and replacement, water heaters and toilet repair and replacement but there is no plumbing problem we can't solve," says Mick Morgan, Plumbing Service Manager at Brothers Plumbing, Heating & Electric. With over 700 positive reviews people in the Denver Metro area can be confident when they hire Brothers. To make people feel extremely comfortable they provide a, "Happy Today or You Don't Pay," promise.
The Denver plumbers, electricians and HVAC technicians at Brothers Plumbing, Heating & Electric are all highly trained, background checked and drug screened. They also arrive in a company vehicle wearing a uniform. "We want our customers to be safe so we make sure our trucks and technicians exceed the standards of other service companies. We also want the customer to be confident when they open the door so we make our trucks and techs highly recognizable so people can feel secure," says Mick Morgan.
To learn more about Brothers Plumbing, Heating & Electric please visit their website. To take advantage of the new $79 A/C Safety Check please call (303) 468-2294 or schedule service online. People looking to save money can go their website and sign up for their email list to receive current coupons and get new ones as they become available. To have an experienced Denver plumber, electrician or HVAC technician scheduled to come out please call (303) 468-2294.
Brothers Plumbing , Heating, and Electric
12249 Pennsylvania St
Thornton, CO 80241
(303) 451-5057