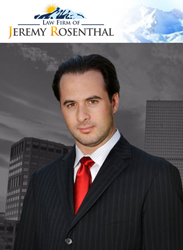 A Skilled Trial Attorney With Proven Results
Denver, CO (PRWEB) May 14, 2015
The Law Firm of Jeremy Rosenthal is proud to announce that Attorney Jeremy Rosenthal has recently been invited into the Million Dollar Advocates Forum, representing the most prestigious group of trial lawyers in the entire United States. Rosenthal is also a four-time inductee into the Top 40 Lawyers Under 40 in Colorado and a member of the Top 100 National Trial Lawyers of Colorado.
One hopes to never need a personal injury lawyer, but when necessary, only a handful out of the thousands of attorneys out are worth consideration. Attorney Rosenthal's recent accolades confirm his relentless reputation as an advocate for the rights of aggrieved parties against America's industrial giants. He is one of the rare attorneys willing to stand up for individuals' rights against Big Insurance, Big Phrama and other corporate titans.
"The desire to stand up for individuals' rights is the essence behind getting called 'The People's Lawyer,'" says Rosenthal. "I have dedicated my professional life to siding with the little guy against our strong and relentless government and the major titans of the economic world."
The Million Dollar Advocates Forum is an organization reserved for lawyers who have demonstrated the highest ethical standards, including putting their clients' needs ahead of their own, and who have received a settlement or judgment of at least $1,000,000. Settlement figures this large are rare, and any attorney who secures this type of judgement demonstrates an understanding of very complex legal issues and very complex negotiation processes that are vital to securing such a judgement.
"What I can tell you is that I consider it my personal and professional mandate to ensure every variable impacted by a client's injury is accounted for and compensated appropriately," says Rosenthal. "Nothing less than full recognition of my clients' pain and suffering is tolerated."
Reputation for Being a "People's Lawyer"
In addition to being inducted into the Million Dollar Advocates Forum, Rosenthal was awarded the "People's Champion of the Year" award in March 2015 at the Consumer Advocates for Corporate Change awards dinner in Las Vegas, Nevada. The award is given annually to the individual the committee feels best demonstrated the spirit of "putting the good of society ahead of their own needs." Rosenthal's pro bono work and unflagging determination to put David on equal footing with Goliath earned the committee's recognition.
Rosenthal considers personal injury law a tough, and often misunderstood, profession. "I deal with seriously injured people every day who are being taken advantage of, usually by an uncaring insurance company," says Rosenthal. "These victims often know they are being dealt with unfairly, but they lack the resources and contacts necessary to fight back. I have an unlimited source of capital to back my client's cases, and no matter how big or strong our adversary, we will never give in; never surrender. We are unwavering in our commitment to the people we defend."
A Skilled Trial Attorney with Experience
Rosenthal began his career working on behalf of insurance company interests, and he also clerked for a Judge, showing him both sides of the coin. Over the years, he has honed his courtroom manner and found that it is an absolute honor to be on the side of justice, the side of the people. By overcoming the power and resources that are trying to minimize clients' legal rights, Rosenthal realizes how fortunate he is to be able to help so many in the process. "Whether it's a car accident victim getting lowballed by insurance companies or an individual harmed due to someone else's negligence, it's in my nature to help," says Rosenthal.
Overcoming Odds
Rosenthal has observed that at the state and national levels, politicians representing corporate interests are gaining more power and are using that power to constrict the legal channels available to victims of negligence with trends only getting worse. He believes that it has never been more imperative than right now to have experienced and determined legal representation to protect one's interest when one has been injured due to another's negligence.
"Too many of our laws are now slanted in favor of big business' interests," says Rosenthal. "The defendants I represent are always the underdog, but that's a role I relish. I truly believe that trial lawyers are the last safeguard protecting individuals' rights against the expanding power grab being made by our government and large corporate interests right now."