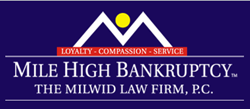 It costs money to properly prepare an excellent bankruptcy. Mile High Bankruptcy fees have remained unchanged since 2005 despite the change in the law which made preparation more complicated
Denver, CO (PRWEB) December 30, 2013
Bankruptcy attorney fees in Denver, Colorado have changed drastically in the past ten years, especially since the passage of the Bankruptcy Reform Act in 2005, and the onslaught of bankruptcy preparers and new lawyers advertising on the internet.
According to Peter Milwid of Mile High Bankruptcy, a preeminent AV Martindale-Hubbell bankruptcy lawyer practicing bankruptcy law in Denver for over 25 years, these changes have created some shady and perhaps illegal fee arrangements amidst growing competition.
"It costs money to properly prepare an excellent bankruptcy. Mile High Bankruptcy Denver Chapter 7 bankruptcy fees have remained unchanged since 2005 despite the change in the law which made preparation more complicated", Milwid said. "We get paid the majority of our fees before filing, but always with a custom designed payment plan to meet the clients' needs."
"Other lawyers, however, are under attack for bait and switch tactics where they advertise cheap bankruptcies but then charge more, or file 'no money down' filings and collect outrageous fees afterwards," Milwid added.
Milwid further states, "In our experience, there is no reason to cheat the system when you are doing things fair and square in the first place."
For more information about Filing Chapter 7 bankruptcy in Denver, CO visit http://www.milehighbankruptcy.com or call 303-831-0733 to speak with Denver bankruptcy lawyer, Peter Milwid.