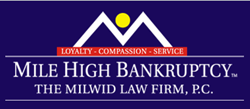 Our expanded Denver bankruptcy blog serves as a great guideline for client questions based on real life chapter 7 bankruptcy experiences
Denver, CO (PRWEB) November 07, 2013
Denver bankruptcy lawyers at Mile High Bankruptcy are pleased to announce expanded blog postings of firm news and clear, client oriented notes and insights into the Chapter 7 bankruptcy laws and process. Past postings have been well received by clients and other practitioners.
Attorney Peter Milwid says that the expanded postings, "Serve as a great guideline for client questions based on real life chapter 7 bankruptcy experiences. For example, topics include renting a home after bankruptcy, how to pay for bankruptcy, what to do if you are sued for debts, student loan and tax problems, and step-by-step descriptions of the actual chapter 7 procedure in terms of how it works, and what exactly is expected of people needing help."
"It is also a great way to inform people of firm news such as the addition of a new tenant in the historic Mile High Bankruptcy offices who provides people with an excellent Chapter 13 referral for clients needing reorganization options," Milwid added.
Peter Milwid's Denver Bankruptcy Lawyer Blog can be accessed directly at: http://www.milehighbankruptcy.com/peter-s-blog
Visit http://www.milehighbankruptcy.com to see new and upcoming blog posts, or call 303-831-0733 to contact Peter Milwid directly at Mile High Bankruptcy with questions about filing chapter 7 in Denver and throughout the State of Colorado.