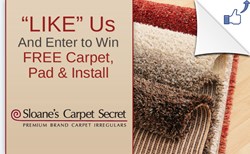 We believe in living well for less and we're looking forward to helping someone do just that with this Facebook contest.
Denver, Colorado (PRWEB) January 13, 2014
Denver carpet retailer Sloane's Carpet Secret has started collecting stories from its Facebook fans as part of a contest. The best story will receive free carpet, pad and installation.
"To enter, folks just like our Facebook page and tell us a story," said Sloane's Carpet Secret owner Scott Alban. "We're looking for a humor, creativity or an opportunity to make a real positive impact on someone's life."
Alban offered examples of entries received before the contest officially launched, but that are being included for consideration:
"Remember the old saying 'the son of the shoemaker has no shoes'? I feel the same way here - 'interior designer with threadbare carpet'. Just bought my first apartment last year, but funds are tight on replacing the dog stained-iron burn mark-spilled beet juice- old, old, ugly carpet. I love supporting local business' too and I would to be entered in winning some new carpet for my bedroom." – Teia V.
"We've had the same carpet in our house since we bought it from the previous owners. I believe it was probably the cheapest carpet the builders carried because it's not held up well. We are desperate for new carpet and yes, we are the people that are embarrassed to have people over because it's stained and old looking." – Shannon R.
"Our Boulder home was impacted by the September floods and we're still trying to pick up the pieces. This house is where my kids grew up and it's where my wife and I have lived for the past 16 years. Our home held up for the most part, but our front room did not. Flooding in the streets quickly entered our front door and destroyed our carpet and our furniture almost instantly. We were fortunate enough that only our top level was impacted as it could have been so much worse. Thank you for your consideration." - Rick T.
The contest runs through Monday, February 10, 2014. The winner will be announced on the Sloane's Carpet Secret Facebook page on Valentine's Day. The offer extends to any 20' x 10' room. No purchase is necessary.
"We believe in living well for less," said Alban, "and we're looking forward to helping someone do just that with this Facebook contest.
About Sloane's Carpet Secret
Since 1979, Sloane's Carpet Secret has been one of Denver's top privately owned carpet stores. Sloane's provides the largest collection of high-end closeouts and Grade A Irregulars in Denver, Colorado, at its "secret" warehouse, 13100 Albrook Drive, Dock #45, Denver, Colorado, 80239. For more information, please contact Scott Alban at (303) 300-9555, info (at) sloanescarpetsecret (dot) com or visit SloanesCarpetSecret (dot) com/e-contact-us/.