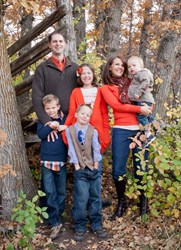 When people in Colorado buy carpet in any way other than the Sloane's Carpet Secret way, they pay too much.
Denver, CO (PRWEB) February 14, 2014
Denver carpet retailer Sloane's Carpet Secret announced today Nichol Schauerhamer of Castle Rock was selected as the winner of its first Best Stories Facebook Giveaway contest. The Denver carpet retailer also announced it had decided to extend an offer to discount carpet, pad and installation for the contest's runner-up.
"We received so many worthwhile entries," said Sloane's owner Scott Alban. "Some were funny; most touched our hearts. It was tough to choose."
Alban said the winning entry stood out because, "It made us chuckle and, from our own personal experiences, we completely understand how we can make a positive impact in the lives of this family." Schauerhamer's entry read:
"If any carpet has been put to the test, it is ours. For the last ten years it has been beaten and abused by four kids. It has been through art projects, backyard muddy messes, 'creative' wall painting, potty training and sick kids. This carpet really deserves to be put out of its misery!"
The 2nd prize winner was Shannon Reuchlein of Thornton.
"We've had the same carpet in our house since we bought it from the previous owners. I believe it was probably the cheapest carpet the builders carried because it's not held up well. We are desperate for new carpet and yes, we are the people that are embarrassed to have people over because it's stained and old looking. :("
"We originally said we would award a single winner," said Alban, "but we sympathized with Shannon, we appreciate her effort and we are certain our carpet can help her get to a place where she can invite the neighbors over, so we'll offer her a discount on what is already the best deal on carpet in Denver."
Winners were notified directly and the results of the contest were announced Friday, February 14, on Sloane's Facebook Page. Each qualified entrant received a personal thank you from Sloane's. Installations for the winners are scheduled in March.
Alban encouraged Denver carpet shoppers to stay tuned to Sloane's Living Well for Less blog and Facebook because the company plans to document the installation and share "before and after" pictures.
"We believe everyone can live well for less," said Alban. "When people in Colorado buy carpet in any way other than the Sloane's Carpet Secret way, they pay too much."
About Sloane's Carpet Secret
Since 1979, Sloane's Carpet Secret has been one of Denver's top privately owned carpet stores. Sloane's provides the largest collection of high-end closeouts and Grade A Irregulars in Denver, Colorado, at its "secret" warehouse, 13100 Albrook Drive, Dock #45, Denver, Colorado, 80239. For more information, please contact Scott Alban at (303) 300-9555, info (at) sloanescarpetsecret.com or visit SloanesCarpetSecret (dot) com/e-contact-us/.