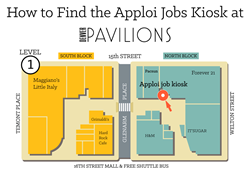 Now that Apploi has a kiosk in the Pavilions Mall, it's even easier to apply for a job there.
New York, NY (PRWEB) December 09, 2014
Apploi announced today that Denver, CO job seekers can now head to the Pavilions mall to use an Apploi kiosk to find local jobs at retail and food services companies. The Apploi platform currently has hundreds of jobs available in and around Denver, CO and new jobs are being added weekly. The Apploi job search Kiosks connect job seekers to opportunities they might otherwise miss using traditional job search techniques. In addition to the Kiosks, Apploi offers a mobile job search app which is available to download in both iOS and Android devices. Using the mobile app users can search for jobs on their phones or tables using GPS to target local jobs based on their location.
Now that Apploi has a kiosk in the Pavilions Mall, it's even easier to apply for a job there. You just head to the kiosk, (located on the 1st floor where the ATM used to be, right next to Forever 21,) scroll through all the jobs available in the Pavilions and apply straight through the app. The Pavilions mall alone has over 40 shops and several restaurants that are hiring for many retail and food service jobs. Working in retail is one way to learn an industry from the bottom-up and launch a career.
Using Apploi, job seekers do not need a resume. Users find an interesting job, answer a few simple questions and then submit their application. The kiosk means you can find a job at the Pavilions mall with minimal effort.
Denver, CO is always a great place to live and work, but finding a job there just got a whole lot easier.
About Apploi
Apploi is an ecosystem for the job seeker. We are an app, available on the Google Play and App stores, as well as a website, where we post written and video advice content. Working with over 2000 brands across America, Apploi posts jobs, mainly in the retail, services and hospitality industries. By applying directly though the app with a video, job seekers can show their personality far more effectively than a traditional resume could. The Internet never did for the service industries what it did for corporate hiring, and we're trying to change that.
Employers wishing to learn more can contact employers(at)apploi(dot)com or call 212-273-9694.
For press inquiries please email press(at)apploi(dot)com.