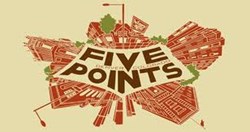 Over the life of your typical 30-year mortgage, a MCC should save the average Five-Points/Curtis Park home buyer about $43,000.
Denver, CO (PRWEB) December 27, 2013
Very few places in the Centennial State drip with as much rich storied urban culture as Denver's Five-Points/Curtis Park neighborhood. The Northeast Denver hub not only happens to carry the history of decades of jazz, blues and countercultural arts movements, but it remains a popular music and nightlife destination, and moreover, is one of the most hip and up-and-coming locations in the entire metro Denver area.
If savvy prospective Denver home buyers need a frame of reference as to how a community with this wellspring of imaginative endeavors can lead to gigantic real estate value growth, perhaps New York City's Soho and Greenwich Village or Chicago's Wicker Park would ring a bell. As Centennial, Colorado-based veteran mortgage advisor Christian Durland reports, there are tens of thousands of dollars that can be saved in income tax credits while this neighborhood is still considered to be in its so-called "developmental" phase.
What Durland specifically is pointing to is an underused IRS-incentivized tool called the Mortgage Credit Certificate (MCC) Tax Credit Program. Through the MCC, home owners can reclaim 20 percent of all yearly mortgage interest payments, which simply goes back into a taxpayer's pockets. Of course, this program is most often only available to first-time home buyers, but the first-time requirement is waived and no longer applies to certain "Targeted Areas" where the government is attempting to promote economic and residential growth. However, luckily for potential Denver home buyers, a few markets that look like potential goldmines—including, yes, the Five-Points/Curtis Park neighborhood—just so happen to fall under this "Targeted Area" designation.
As Durland says, "Time and time again we see new homeowners moving into some of Denver's hottest neighborhoods like the Five-Points/Curtis Park, and time and time again we hear of them working with mortgage advisors who failed to attach an MCC to their mortgage loan, most often because their mortgage advisor was simply oblivious to the fact that their client even qualified for this program that would help their clients save massive amounts on the life of their mortgage. As the word about MCC's spreads, I expect this program to be as effective, if not more so, than the IRS' First-Time Home Buyer program from a few years back."
As for more of the finer points associated with the Five Points/Curtis Park neighborhood, potential buyers can relish the architectural diversity found in the neighborhood's blend of golden age Victorian mansions mixed with modern luxury homes and condos. And the modern has also spread into a revitalized business district, as well as the Light Rail Line stops that can transport commuters to Downtown Denver, and by 2015, to the Denver International Airport. In other words, what was once known as the "Harlem of the West" is certainly moving and shaking.
Add a MCC to this already-thriving area, and what many predict to be a location with massive real estate investment potential is only built upon via yearly mortgage savings. "On the life of your typical 30-year mortgage, an MCC should save the average Five-Points/Curtis Park home buyer about $43,000," Durland says. Of course, a few restrictions will still apply, but these restrictions will only limit about ten to twenty percent of all the prospective homebuyers looking to purchase in this revitalized area. The main restriction, a mortgage that an MCC is attached to, must be the home buyer's primary and only home, and the total income for a household must not surpass $95,100 for a 1-2 person household, and may not exceed $111,000 for 3+ person household. However, with the median Denver household income in and around $60,000, this is truly a program with mass appeal, which is available to the lion's share of potential homebuyers.
About Christian Durland:
As a well-established mortgage advisor with extensive knowledge of the intricacies of Colorado mortgage planning, Christian Durland's decade-plus of experience in his field has also allowed him to develop an elaborate network of Denver-area real estate professionals whom he can refer clients to, based on specific mortgaging needs. Operating outside of the conventions of simple real estate transactions, Durland prides himself on his ability to guide borrowers through every step of the home buying process in order to help maximize their savings. It's his success in these endeavors that has won him a reputation for being a trusted figure and foremost authority in the Colorado real estate community. Durland is also a multi-time recipient of the locally coveted 5280 Denver's Magazine's "Top Mortgage Professionals Award", which is awarded to Denver's most elite mortgage bankers and brokers annually.