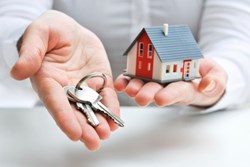 The MCC allows 20 percent of all mortgage interest paid every year by a home owner to be paid back to the home owner in full.
Denver, CO (PRWEB) October 25, 2013
For new Colorado home buyers and those looking to mortgage a Denver-area home, the 4.5 percent mortgage rates that have dominated the market in recent months may be a bit upsetting when compared with the 3.5 percent rates that were available earlier this year. And as far as other incentivizing measures that the government was using to lure in home buyers when the market was in the dumps such as the IRS' $8,000 First-Time Home Buyer Tax Credit, that train is long gone. That's why it's with extreme excitement that Colorado first-time home buyers are discovering the Mortgage Credit Certificate (MCC) Program, which not only finds financial gain in increased mortgage rates, but also could trump that $8,000 IRS handout by a long shot for home owners who stick out their mortgage and stay in good standing.
Colorado-based Envoy Mortgage reports that through the use of the MCC, the average Denver borrower could save about $2,100 annually on the life of a loan. But before getting into exactly how this figure can be determined, it's important to understand just how the MCC operates.
Click here for a free mortgage rate quote.
First, it should be made clear that the MCC works through tax credits, not tax deductions; the difference here being that a tax deduction is taken away from the taxable income an individual claims, whereas a tax credit is money subtracted from the amount of tax one would actually owe the IRS. More specifically to this program, the MCC allows 20 percent of all mortgage interest paid every year by a first-time home owner to be paid back to the home owner in full. As for the remaining 80 percent? It still can qualify as tax deductible.
To further break this down and see how first-time Colorado home owners save an average of $2,100 a year—not just one time—on the life of their loan, let's take the example of someone buying their first Denver home at $225,000. Let's also factor in that they're putting 5 percent on a down payment, which leaves their loan amount at $213,750. To calculate their MCC profit, simply multiply that loan of $213,750 by the current interest rate of about 4.5 percent. This gives us $9,619 of total mortgage interest being paid in the first year of home ownership. The final step is to multiply that number by the 20 percent that the MCC will give them as a tax credit. And voila, there is the $1,924 in the first year, $9,216 over the first 5 years of the mortgage loan, and a whopping $41,904 for the life of the mortgage loan that can be saved in this completely commonplace buying scenario.
"The Mortgage Credit Certificate Program is quite possibly the best-kept secret in the entire mortgage game," says Christian Durland, a senior mortgage expert at Envoy Mortgage in Centennial, Colorado. "Whether buyers look at it as money saved off of increased mortgage rates, a tax rebate or anything else, the end result is the same: thousands of dollars of previously unseen cash in hand every year."
Durland adds that the process is as simple as working with a Colorado mortgage expert, and that the following qualifications must be met to take advantage of the MCC:
1. Must be a first-time home buyer (FTHB). Remember however, that the IRS defines a FTHB as someone who hasn't owned a home in the previous 3 years and in some "targeted and designated areas, the FTHB requirement is waived completely.
2. Household earnings must be up to par with area standards
3. The home purchased must be within a certain price limit that your Colorado mortgage expert can help determine
4. The home must be in an area that the MCC program recognizes
5. The home must be kept as primary residence
6. Other real estate cannot be owned
7. MCC must be claimed on tax returns each year