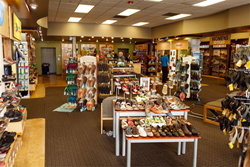 Denver, CO (PRWEB) July 23, 2014
In a market dominated by low- and no-service shoe sellers, Denver retailer Dardano's Shoes thrives with its offering of total foot care services along with top-quality footwear and leather goods. Business is so good that they recently expanded their retail store to add space for an expanded men's selection, private offices for their pedorthists, and even a two-seat shoeshine stand.
"We wanted to make our customers' shopping experience even better, so when the adjacent space became available, we grabbed it right up," says Dillon Dardano, retail manager and part of the ownership family. The 2,600-square-foot addition nearly doubled the store's size.
A principal focus of the expansion was added space for more men's styles. "Business casual is big in Colorado, but so is style, and men here want to look good from head to toe," Dardano says. "By increasing our men's selections, our customers can look great and still be comfortable in shoes that are appropriate for both during and after work."
Comfort is king at Dardano's. That's the reason they have on-site gait analysis, custom shoe modifications and orthotics done by board-certified pedorthists in their new orthopedics and foot comfort center. "Pedorthists are specially trained in the anatomy and mechanics of the foot and its relationship to the rest of the body. They design shoe modifications and orthotics based on their own examinations or a prescription from a medical professional," Dardano says. "How many shoe stores have a certified pedorthist on staff?" he asks. "We have two."
Custom shoe modification and repair are at the heart of Dardano's business. Founded in 1938 by Frank Dardano, the company has grown from a tiny cobbler's shop to one of the country's largest independent shoe retailers. Besides their store near Denver's exclusive Cherry Creek shopping area, their website, Dardanos.com, lets customers anywhere shop their selection of nearly 100 popular brands and styles, from athletic shoes to business and formal wear.
"Customers from all over the west come in when they're in Denver," says Brittany Dardano, the company's marketing manager. "When they find something they like, they don't have to wait till they're here to shop again. They can go to our website and have their order at their doorstep in a matter of days."
While technology and point-and-click retailing has changed the face of many retailers, though, Dardano's knows that their success comes from face-to-face interaction and attention to customer service. "From the first day Frank opened his little store in downtown Denver, Dardano's has known that real customer loyalty comes from our 'sit and fit' approach to selling shoes," Dillon Dardano says. "Nothing can replace the comfort and quality you get from working with a true footwear professional. That's why we only hire associates who are veterans in the shoe business."
Four generations of growth and success in the shoe and leather goods business are good signs that Frank Dardano's philosophy works as well today as it did over seventy years ago. Drop by Dardano's beautiful new store and see for yourself.
Even if it's only for a shine.
For more information, contact Dardano's Customer Service Team
(303) 692-9355
or email
Customerservice(at)dardanos(dot)com