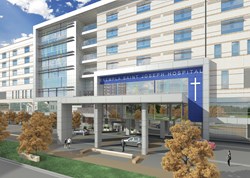 We will have a brand-new, 21st century, high-tech hospital in the heart of a major city. Nothing like this is going on anywhere else in the U.S.
Denver, Colorado (PRWEB) January 21, 2014
J. Kent Gervasini, President of Denver staffing agency J. Kent Staffing, has been named to Co-Chair the $100 Million Capital Campaign of the $623 Million Saint Joseph Hospital Foundation's Heritage Project. The multi-year celebration will make the nonprofit downtown Denver hospital the most modern hospital in Colorado.
"We will have a brand-new, 21st century, high-tech hospital in the heart of a major city," said Gervasini. "Nothing like this is going on anywhere else in the U.S." The hospital will open to patients on December 13, 2014.
Gervasini's three Heritage Project Capital Campaign co-chairs are Lee Everding, Colleen Sandrin and Sister Melissa Camardo. Everding was the first woman to serve on the Board of Directors for Saint Joseph Hospital. Sister Melissa Camardo is Vice President for Mission and Sponsorship at Saint Joseph Hospital. Sandrin is President and CEO of the Saint Joseph Hospital Foundation. The group's makeup harkens the hospital's 1873 founding by four Sisters from the Sisters of Charity of Leavenworth. Today, Saint Joseph Hospital is the largest private teaching hospital in Denver.
As Co-Chair Gervasini works closely with the campaign's Cabinet Members and Chairs who provide the leadership and outreach into their respective industries and communities in order to meet the campaign's financial goals. The Cabinet is made up more than twenty Denver-based executives and industry leaders.
Gervasini served on the Board of Directors of Saint Joseph Hospital Foundation for twelve years and is a past Treasurer and head of the Finance Committee. In April of 1998, Gervasini undertook a difficult and challenging consulting project on behalf of Saint Joseph Hospital in Ecuador, South America. Donating expenses and consulting fees she traveled to several jungle hospitals for the hospitals Mission Services, interviewed administrators, physicians and South American project partners. She also headed the William V. Gervasini Foundation which funded the eponymous library at Saint Joseph Hospital in 1996. The library is named for Gervasini's late husband.
Gervasini pointed to the impact Saint Joseph Hospital has on Denver and Colorado. According to the Economic Impact Report of the hospital, they employ approximately 2,500 people, thirty percent of which are Denver residents, and compensate those employees $177 million in wages and salaries. Each year, it spends more than $120 million on supplies, services and equipment. The Heritage Project--the building of the new hospital--will create 1,400 construction-related jobs and $340 million in labor compensation, generate over $13 million to Denver and $8 million to the State of Colorado in tax revenue.
Additional causes supported by Gervasini and J. Kent Staffing include Community Housing Services, the Samaritan Institute and the Institute of International Education. She is a past President of the Cherry Creek Chamber of Commerce.
Donations to the Saint Joseph Hospital Foundation can be accepted by mail, phone or online. Additional information is available at the organization's website.
"The J. Kent Staffing offices have been located in the heart of Denver since 1979," said Gervasini. "As people and as a company, we stay in touch. We give back."
About J. Kent Staffing
Founded in 1979 in Denver, Colorado, J. Kent Staffing is an independent, woman-owned, DBE/SBE certified, full service staffing and recruiting firm. Services include Retained Executive Search, Direct Hire, Temporary Staffing, Temp-to-Hire, Part-Time & Specialized Staffing (Events Staffing, Project Staffing, Senior Talent, and Intern Program Staffing), Payroll Services, and Skills Testing & Tutorials. The firm also supports the staffing needs of federal, state and city government agencies and other major and primary government contractors through a 5-year GSA Schedule award. For more information, please contact J. Kent Gervasini, CPC, CSP, and President at 303-777-7734, jkg (at) JKentStaffing.com or visit JKentStaffing (dot) com